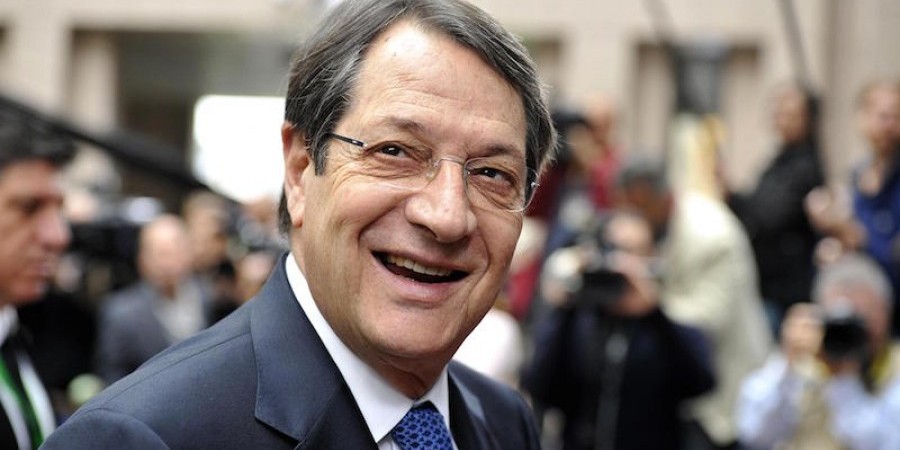 Incumbent Cypriot President Nikos Anastasiades will have to face "energy" challenges in the near future, after his re-election to the Presidency, on Sunday, February 4.
The research projects that Nicosia has long undertaken in its Exclusive Economic Zone (EEZ) to locate major natural gas fields will be intensified in 2018, with U.S. Exxon Mobil already confirming that, in the second half of the year, it will initiate two exploratory drillings on (sea) plot 10 of the Cyprus EEZ.
The moves have been methodically planned, as the American giant together with Qatar Petroleum have already secured their cooperation with the Cypriot government, since April 2017.
However, the collapse of last year's talks to resolve the Cyprus problem in Switzerland, makes the need to safeguard the EEZ research Cypriot and the exploitation of that local hydrocarbons more relevant than ever; and this is so, in order Nicosia not to have to deal with a fresh round of intense Turkish provocations within the coming months.
Particularly at a time when the promising undersea gas pipeline from Israel to Greece, the Eastern Mediterranean Pipeline (EastMed) has recently received the European Commission's practical support, with the latter endorsing a 34.5-million-euro fund for the implementation of the final technical study of the project.
"Calypso" demands balance
Maintaining the diplomatic equilibrium in the Eastern Mediterranean region will demand Anastasiades' (political) mastery, as if it is confirmed that the gas field in the plot 6, named "Calypso" -which is being used by the Italian ENI- has nearly 8 trillion cubic feet of natural gas, it could cause turbulence by intensifying the commercial competition with Israel…
This is taking place at the same time when Turkish FM, Mevlut Cavusoglu, in an interview with Greek newspaper "Kathimerini", notes that Ankara will "take all necessary measures" in order to safeguard the rights of the Turkish citizens of northern Cyprus, as well as Turkey's too, in the Eastern Mediterranean region; what made him comment on that is the activity of Italian ENI in plot 6, of the Cypriot EEZ, which, according to him, is part of the Turkish continental shelf.
The Bulgarian Presidency during the first half of 2018
The geo-strategical significance of the wider region has attracted considerable international investment interest. That is thanks to the rich stock in oil and natural gas that was discovered in the East Med between 2009 and 2011 and also due to the latest discovery of the Zohr natural gas stock off the shores of Efypt, in 2015, by Italian ENI.
What remains to be seen is how things will evolve in 2018, within the first six months of which, Bulgaria will be holding the Presidency of the EU. During these months, Sofia will have to re-define its relations with Ankara, while, simultaneously, the wish to disengage from  the co-operation with Russian Gazprom is strengthened. At the same time, the co-operation between Israel, Cyprus, Greece and Egypt also becomes closer, especially so, after the signing of the Inter-National Agreement. However, the latter does not block other possible co-operations…
Nikos Anastasiades was the person, who, two years ago, in February 2016 visited Sofia and said that "our effort to work together excludes no one. I believe we can build relations and safeguard Europe's energy needs, even more so (those) of friendly countries, like Bulgaria"…/IBNA