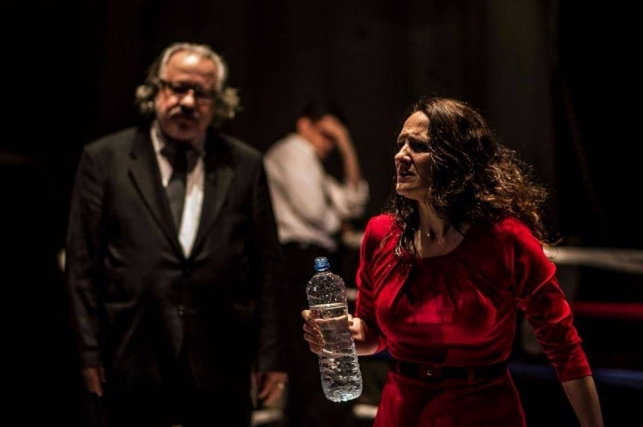 Pristina, May 26, 2014/Independent Balkan News Agency
By Elton Tota
"Enemy of the people" show, which focuses on political events, especially elections, has been awarded in the city of Vratsa in Bulgaria.
In the festival, which gathers small formations of international theaters, the show produced by Pristina and Skopje was awarded with the Prize for Contemporary Reading. National Festival of the Small Formation Theaters held this year its 25th edition, while the International Theater Festival, which is held in its framework, has held its fourth edition.
"Enemy of the People", written by Henrik Ibseni and directed by Dino Mustafiqi, is a joint production between the "Theater of an actor" of Skopje and ODA theater of Pristina. The main cast of this show features Bajrush Mjaku, in the honor of which the show has been put on stage. Other names of the cast include Arta Selimi, Bislim Mucaj, Salaudin Billalli, Alban Ukaj, Fisnik Zeqiri, Ardiana Morina and Ilire Vinca. The latter and the rest of the group have been informed about the award through an e-mail.
"It's very likely that they were impressed by the contemporary reading that Dino Mustafic did to the show of Henrik Ibseni. It's a combination between a classical text and a modern form. Of course it's a good feeling, because all our efforts were rewarded", said Ilire Vinca, who said that this show has been welcomed by the Bulgarian audience.
"The festival lasts several days and we have been unable to follow all of it. But, after our show, we have contacted with selectors of other festivals in different countries and I'm not mistaken, we've received three invitations, but I don't know from which countries", added Vinca, who in this show plays the role of Katerina, who is the wife of Doctor Stockman.
Meanwhile, Mjaku, in the role of the doctor in the ring, has a heavy burden on his shoulders. He's faces treason and despise.
Stockman, which must eliminate the source of the infection of the toilets of the city, faces many challenges and one of them is submission to power. He's made an enemy of the people by Pjeter, his brother, who is a man of power and who doesn't even care about his relatives for his personal interests. /ibna/