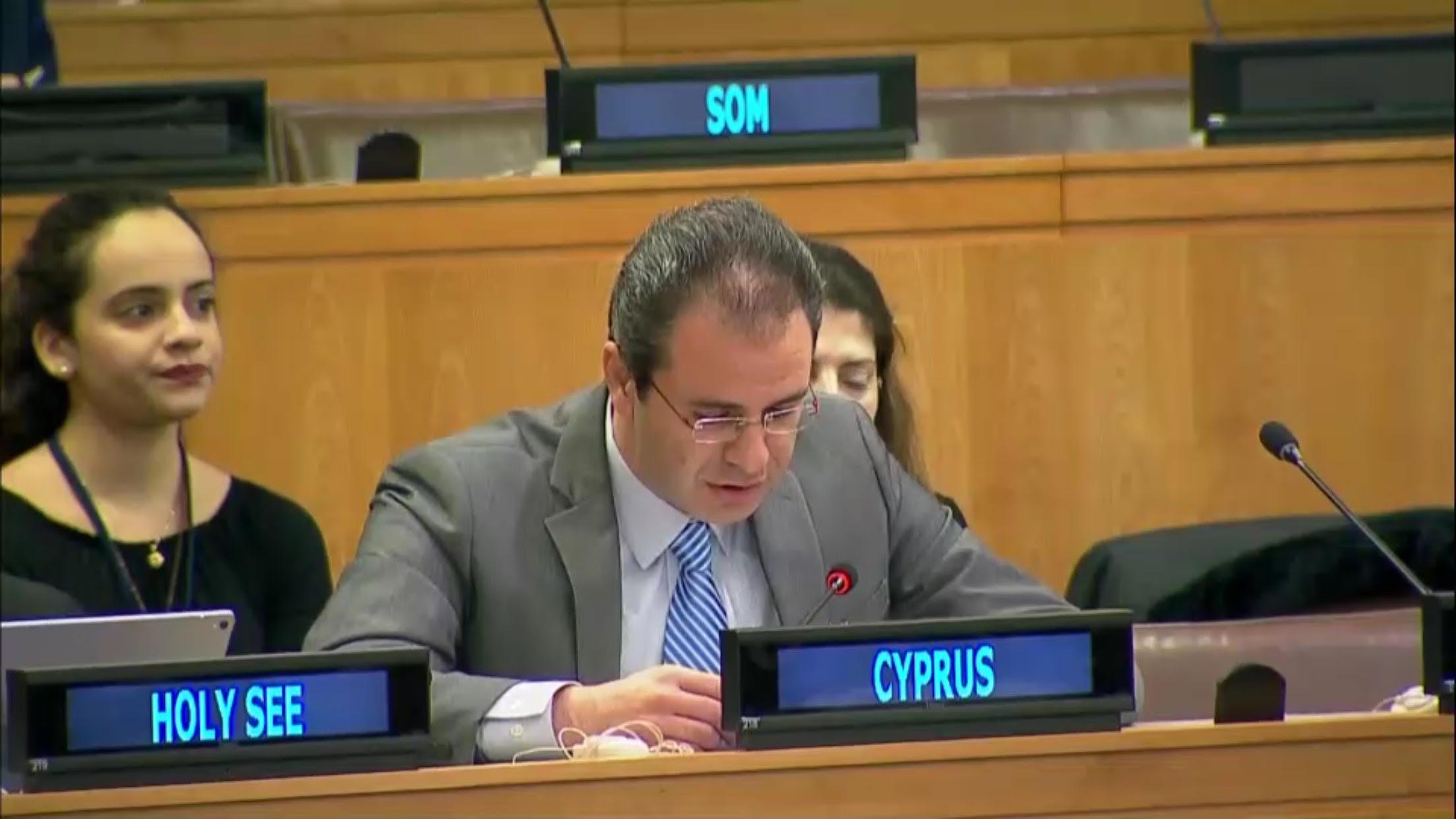 Deputy Permanent Representative of Cyprus to the UN, Menelaos Menelaou, condemned Turkey's violations of human rights in Cyprus, while speaking to the Third Committee of the General Assembly of the United Nations.
In his speech, Menelaou referred to Turkey's invasion in 1974, which infringed basic human rights, and violated Cyprus' independence, sovereignty and territorial integrity. Menelaou spoke about the 200,000 Greek Cypriots who are Internally Displaced and are "denied the right to return to their homes and deprived of the full enjoyment of their homes and property rights."
Further, DPR alluded to the new violations of human rights, due to the imposition of "taxes /fees" on the humanitarian aid by the illegal regime, in violation of UN Security Council Resolutions and the 1975 Third Vienna Agreement. "Enclaved persons, are now subjected to new violations of their fundamental freedoms and basic human rights", as the "UN Peacekeeping Force in Cyprus is not in position to perform its task of delivering humanitarian aid to the enclaved persons."
Menelaou also referred to the issue of missing persons, as it still remains a major concern and underlined the need for Turkey to provide full unrestricted access to all areas, including fenced military areas and present evidences of deliberate removal of remains of missing persons.
Regarding the protection and preservation of cultural heritage, Menelaou noted that even though Cyprus has suffered a widespread destruction and looting of religious and cultural heritage in the occupied areas, adopted a new Convention on Offences relating to Cultural Property (Nicosia Convention) during its Chairmanship of the Council of Europe.
Menelaou called the attention on the following negative developments in Turkey after the attempted coup and expressed deeply concerned about "the direct impact of the worsening of Turkey's authoritarian policies, on the everyday life of the Cypriot citizens who live under Turkey's illegal military occupation." He added that Cyprus reiterates the vital importance of respecting human rights and fundamental freedoms in full compliance with international humanitarian law and international human rights law, including the European Convention for the Protection of Human Rights and Fundamental Freedoms and the Decisions of the European Court of Human Rights.
Leading, Menelaou concluded by stressing the need for "full conformity with individual human rights standards for the people of Cyprus as a whole, regardless of their ethnic origin or religion, should be an integral element of any just, comprehensive, functional and sustainable solution to the Cyprus problem"./IBNA