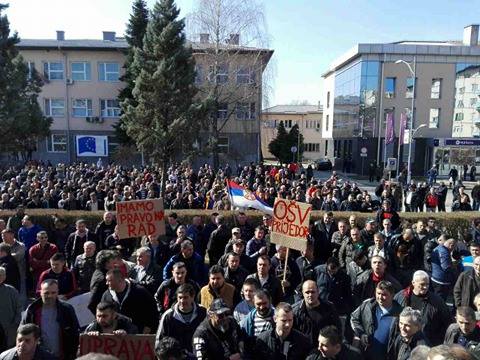 Several hundred "Republic of Srpska Railways" (ZRS) employees gathered on Friday in the city of Doboj, where the main office building of the company is situated, to demand better conditions, payment of all debts to employees and, in the end, the resignation of General Manager, Dragan Savanovic.
This company is facing great difficulties since this way of transport is not so cost effective due to the old infrastructure and trains. The railway in BiH, in general, is at the level of the middle of last century rather than modern and effective way of traffic and goods transport. Also, a lot of workers was employed on "party lines" which means that they didn't have qualifications but had relatives in influential positions in various political parties. Lack of finances and surplus of employees are the biggest reasons for the poor situation. Additionally, workers are not unified as to what to suggest and how to make trade unions and this has led them to a situation that they have one company with several trade unions, which often are working in opposite directions.
Savanovic agreed to hold a meeting with employees representatives but said that they will not see him submits his resignation. As he said his resignation is not the problem but he will not submit it to trade unions but to the one who appointed him to that position.
After meeting with trade union representatives and employees of the company, Savanovic promised to pay the January salaries without contributions, "because they do not have enough money".
"For fulfillment of other demands the company has no funds", Savanovic said.
He added that other debts to the workers will be paid during the process of company restructuring. Savanovic stressed that the company has sent the proposal to the World Bank and their experts are expected to come in mid-March to evaluate the situation in the company.
The loan, which is being negotiated with the World Bank, would be used for severance payments to surplus of workers and payment of arrears. It is expected that the loan will be operational at the end of the year.
President of the Independent Union of maintenance of railway vehicles Prijedor, Goran Camdzic, claims that the trade unionists persist in their demands. They, as he said, gave a seven days ultimatum to the relevant Ministry in RS Government and the company administration to consider their demands, otherwise it will ultimately demand their resignation.
The workers also demand the suspension of the implementation of the new Regulations on organization and systematization of jobs in ZRS until the adoption of the redundancy program, then the payment of wages and all material costs, and to determine who is responsible for the situation and the dismissal of the management board headed by the Director General./IBNA