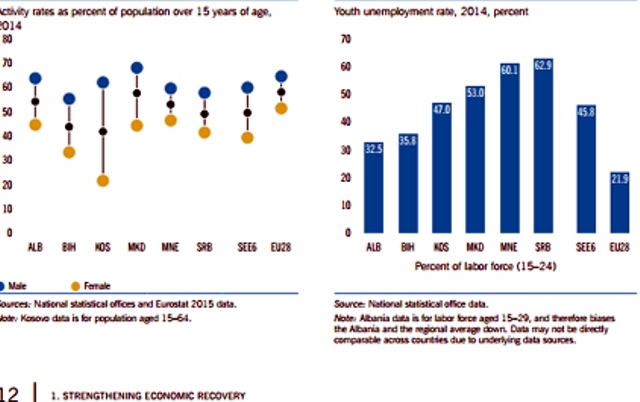 Tirana, 30 September 2015/Independent Balkan News Agency
A recent report issued by the World Bank for the six economies of the Balkan countries, which aspire to become full members of the European Union, warns that the region is rapidly losing human resources due to massive migration and demands to respective governments to take measures in order to stop this phenomenon.
Albania, FYR Macedonia, Kosovo, Serbia, Bosnia and Herzegovina and Montenegro, make up for one of the regions that "generate" the largest number of emigrants, mainly toward EU countries, but also across the Atlantic to the USA and Canada.
Today, states the recent World Bank report, one fourth of the population of the six Western Balkan countries live and work outside of their country.
The report underlines that in contrast to the '90s, when the Balkan people left their countries to flee consecutive conflicts, today, they leave their country for economic reasons.
"The low economic growth after the global financial crisis, high unemployment and GNP per capita which constitutes one third of those in EU member countries, have significantly limited opportunities, especially for young people in their countries. This encourages them to leave their country in search of better economic conditions", the report says.
The World Bank says that the majority of people who leave their country are young people, better educated than the generations that they leave behind in their country.
In Germany alone, in the first six months of the year, the number of people from the six Western Balkan countries who have sought asylum amounts to 80 thousand, therefore the World Bank demands from respective governments to take measures in order to cope with the new situation.
"Western Balkans governments must apply policies to mitigate the negative effects of the aging of the population, demographic transformation and fall of the number of population", the World Bank said. /ibna/