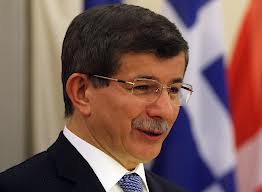 By Manolis Kostodis – Ankara
Concern is raised in Turkey at the overthrow of Mohammad Morsi through a military coup.
Recep Tayyip Erdogan cut his holidays in Urla, Izmir short and called an emergency meeting with his closest aides in his office at Dolmabahce Palace, Istanbul to discuss the next steps of Turkish foreign policy.
The meeting was attended by Turkish Foreign Minister Ahmet Davutoglu, Deputy Prime Minister Bulent Arinc, vice president of the AKP Omer Celik and the commander of Turkish intelligence Hakan Fidan.
Earlier Davutoglu held a press conference on Egypt during which he stressed that "it is unacceptable to illegally overthrow a democratically elected government and the imprison President Morsi and members of his government. Such things cannot be accepted."
The Turkish minister said that "the revolution of January 25th (ed.note: the date protests in Tahrir Square began) was an important step in the democratization of Egypt and these efforts must continue."
Ahmet Davutoglu had a telephone conversation with John Kerry as well as German Foreign Minister Guido Westerwelle.
Turkey is closely monitoring developments as it has financially and politically supported the Muslim Brotherhood of Egypt and their overthrow by the Generals causes concern. More than 250 Turkish companies operate in Egypt and Ankara has also lent the country's government USD 2 bln.
Meanwhile, there is also skepticism over developments in Syria as Mohammad Morsi was one of the most important leaders that supported Islamist rebels in Syria.
The Erdogan government is assessing the dynamism of protests in Egypt as well as all the relevant factors surrounding the overthrow of Morsi especially since last month there had been large-scale protests in Turkey on the Gezi park issue.