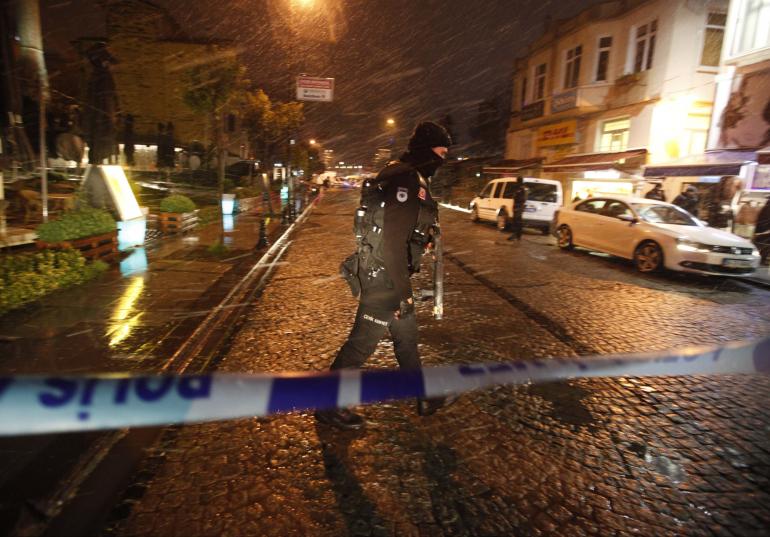 Ankara, April 2, 2015/ Independent Balkan News Agency
By Manolis Kostidis
Istanbul is in a state of chaos after the successive attacks terrorist attacks. Wednesday night two armed persons attacked the Security Directorate of Istanbul. All security forces in large cities are on standby. President Recep Tayyip Erdogan has said that in the coming days he will convene an extraordinary meeting for the increase of attacks.
The perpetrator was killed by police fire and was found to have grenades. The second perpestrator, according to the newspaper Hürriyet, was arrested. However, many media report that he managed to escape by using public transport.
Two police officers were seriously injured. Initial estimates say that the attack is related to the organization DHKP-C, but the possibility of Islamic terrorism is also being examined.
For security reasons, certain subway stations have been closed, while emergency measures have also been taken at Kemal Ataturk airport of Istanbul.
Earlier, a man at gunpoint had invaded the office of the ruling AKP party, breaking a window and hanging the Turkish flag.
Shortly afterwards the police arrest him as he almost surrendered without trying to resist.
The attacks occurred one day after the hostage situation of the prosecutor who was investigating the case of 15-year old Berkin Elvan. The hostage situation, which took place in Istanbul's courthouse, ended tragically, as after the invasion of the Turkish police, the prosecutor lost his life and with him were killed the terrorists of the DHKP-C who held him hostage.
One of the terrorists was the 24 year-old Safak Yayla, who in 2011 had been arrested for protesting against Erdogan. He was released in October 2014!
The second offender was 27-year old Bahtiyar Dogruyol who had been arrested on suspicion of a possible suicide bombing attack.
Turkish police conducted operations in houses in Eskisehir, Izmir and Antalya as they are looking for the safe houses of the organization. Twenty nine persons were arrested and are being interrogated.
The General Staff of the Turkish Armed Forces announced that nine persons, who are British citizens, were arrested on the Turkish-Syrian border. They are probably affiliated with the Islamic state. No further information has been disclosed on the matter.