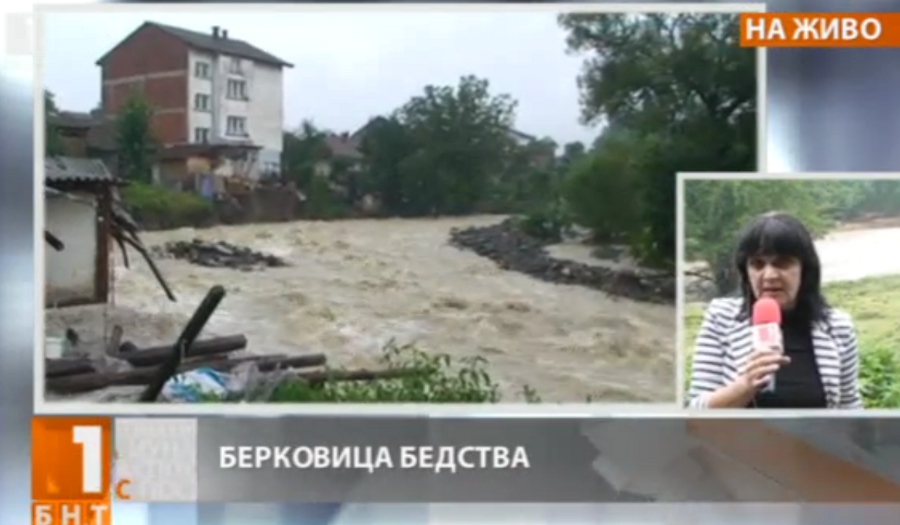 By Clive Leviev-Sawyer of the Sofia Globe
Two municipalities in the Montana district, in north-western Bulgaria, declared a state of emergency on September 5 after flooding caused by heavy rainfall in the early hours of the morning. Berkovitsa and Georgi Damyanovo, on the border with Serbia, were the two municipalities affected.
In Berkovitsa, the rainfall was estimated at about 50 litres a square metre, but double that amount had fallen in the Stara Planina range above the town, Berkovitsa mayor Dimitrina Kamenova said.
The incoming flood wave reached two metres and flooded at least 70 houses in the town, but caused no serious injuries, she said. Twelve people had sought evacuation help but declined to move to shelters offered by the municipality, according to Kamenova.
In the Georgi Damyanovo municipality, the flood waters have destroyed sections of roads, several bridges and electricity poles. At least seven villages were left without electricity, with repair teams unable to begin work because of continued rain, mayor Dilyan Dimitrov told Bulgarian news agency Focus.
However, there was no risk of the large Ogosta accumulation lake on the outskirts of Montana overflowing because authorities ensured it was well below capacity, the reports said.
In other areas in north-western Bulgaria, heavy rain flooded petrol stations on the Hemus motorway, which links capital city Sofia to the Black Sea port of Varna, with visibility very limited because of rain and fog.
Separately, an accumulation lake overflowed in the municipality of Parvomai in south-eastern Bulgaria, prompting the evacuation of 80 people from a nearby village.
(Screenshot from Bulgarian National Television)