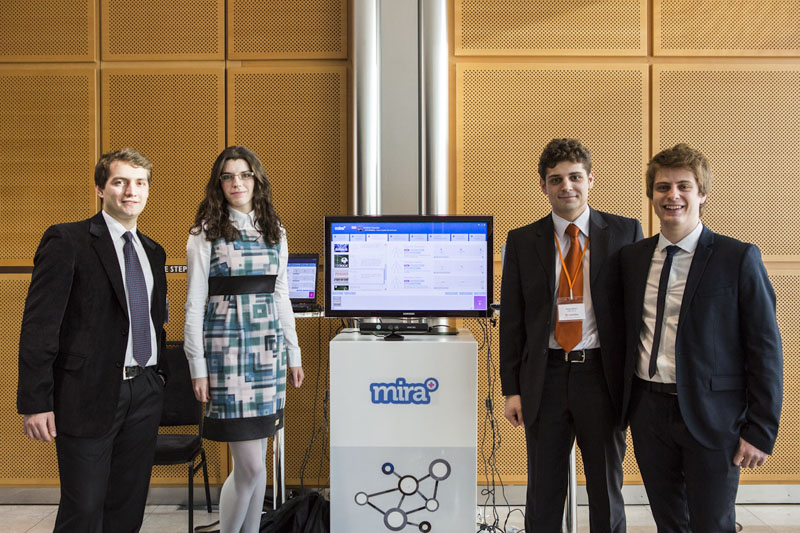 Bucharest, May 27, 2015/ Independent Balkan News Agency
By Daniel Stroe
The US Embassy in Bucharest today announced it will award the May Entrepreneur of the Month, an initiative designed to support new ideas which help transform Romania, to a Cluj-Napoca-based company founded by university students.
In a press release, the diplomatic mission says its award will go to MIRA Rehab of Cluj-Napoca, explaining that Entrepreneur of the Month Program highlights individuals and companies that exemplify the best attributes of entrepreneurship. An entrepreneur sees the potential in a new idea and then takes a bold, often risky step, using only his or her ability, drive and courage to turn that idea into reality.
The award-winning MIRA Rehab was set up by students of the Babes-Bolyai University in Cluj-Napoca and their software platform help people with walking disabilities recover.
The embassy explains that MIRA Rehab was established by students of the Faculty of Mathematics and Computer Science of UBB who created a medical software platform to help with rehabilitation through game playing. The platform turns the necessary rehabilitation exercises into games. The platform is already enjoying international recognition and is used by rehabilitation centers and hospitals alike, the quoted document further says.
"I applaud all of the entrepreneurs working tirelessly in Romania who continue to strive to keep their dreams alive; they are the future of Romania. As Romania continues to grow and develop, it will need entrepreneurs to build new companies, adapt and reform old ones, and lead the country into the future. The Entrepreneur of the Month initiative is our way of recognizing Romania's amazing entrepreneurs. Our aim is to highlight entrepreneurs in all sectors of Romania's economy, from Tourism to Agriculture to Health," U.S. Chargé d'Affaires a.i. Dean Thompson, outlined in the section on the embassy's website dedicated to the "Entrepreneur of the month" initiative.
The award ceremony is scheduled for Friday, at the Babes-Bolyai University. Last month, the embassy awarded the distinction to Atelierul de Panza, a self-sustaining social enterprise project dedicated to reducing waste in the environment while providing fair employment opportunities to an underserved segment of the population.
Started in 2009 by the NGO Viitor Plus, Atelierul de Pânză produces reusable canvas bags, many out of commercial textile waste, off-setting the use of environmentally harmful plastic bags. It employees seven people some with disabilities and some from other vulnerable groups, helping them to enter the job market and providing them with a stable and steady source of income.