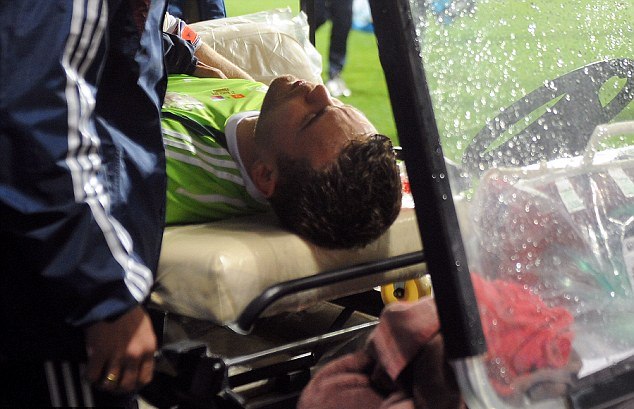 Podgorica, March 28, 2015/ Independent Balkan News Agency
By Adnan Prekic
Russia goalkeeper Igor Akinfeev was hit on the head by a flare in the first minute of the Euro 2016 Group G qualifier between Russia and Montenegro that took place in Podgorica. The referee stopped the match, but it was resumed after 35 miniutes. Eventually, but due to new incidents German referee Deniz Aytekin was forced to permanently discontinue the match after 67 minutes at 0-0. The straw that broke the camel's back was the brawl involving players and coaching staff.
Montenegrin public condemned the attack on the goalkeeper and the hooligans who caused the termination of the match. An exemplary punishment is expected from UEFA. Part of the public in Montenegro warns that this is the last moment that the government respond against hooligans in stadiums.
CSKA Moscow's Akinfeev was struck on the head by the flare approximately 20 seconds after kick-off and was replaced by substitute goalkeeper Yuri Lodygin.  Akinfeev was taken to the local hospital in the Montenegrin capital Podgorica, wearing a neck brace. An examination determined he had no major injuries, but the goalkeeper remained under observation in the hospital for a few hours.
Montenegro coach Branko Brnovic appeared embarrassed by the actions of his side's fans. "I would like to apologise to the Russian players and coaching staff because of everything that has happened. It is normal that the match was abandoned, because the incident was the second one in the game", Brnovic said.
UEFA said it would wait to receive reports from the match delegate and referee before initiating disciplinary proceedings.
Link to the video that shows the incident: https://www.youtube.com/watch?v=vA79sTiVs3o#t=11