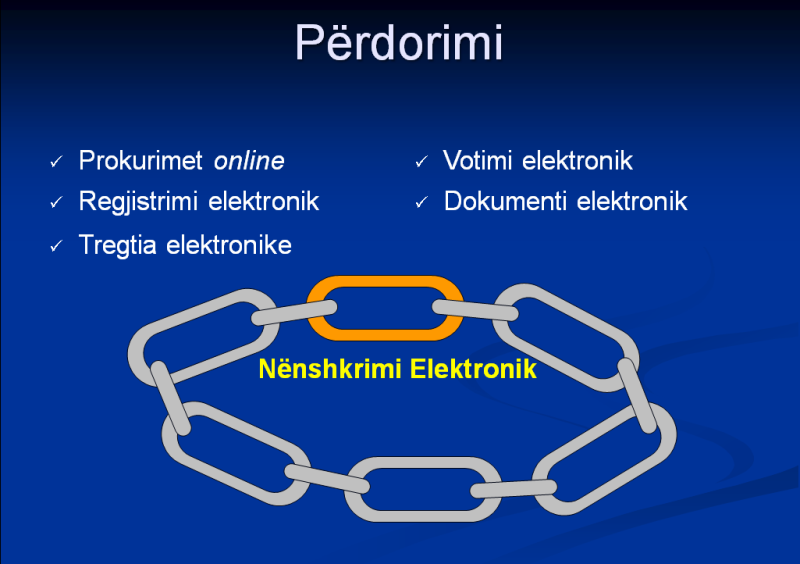 Tirana, May 19, 2013/Independent Balkan News Agency
Authorities in Albania are trying to implement the electronic signature. This is a novelty for the country, but its application has started two years ago during the right wing government.
This process doesn't seem to have found lots of support, because the new government has been promoting it in the recent days.
Electronic signature is nothing else but information in an electronic form, which proves the identity of a person in a safe way.
Minister of Innovation, Milena Harito says that this electronic signature brings several facilities in the life of the citizens. She mentions: "Guarantees for the public administration, which will use the electronic document, the growth of the number of electronic services available for the citizens, the constant improvement of online services, the growth of security for the services that are offered and fall in corruption, facilities in terms of time and cost for every group of interest and every business process and a coordinating development of the incentives for e-governing and information society".
Now, every interested Albanian citizen, can sign contracts, participate in public procurements, register his business, etc., only by using electronic signature.
Minister Harito explains why digital identity is a necessity of the time and technology. "The use of services in the digital world is a phenomena spread with the development of the technology of information. The wide spread of internet and the massive volume of its use, also brings new phenomena and problems. One of these is also the creation of virtual identities, which differ from real ones. Under these circumstances, there's a need for the use of electronic signature, which enables safe communication", explains Harito.
The electronic signature service is currently offered by Albanian Mail, the state institution of mailing services and several other institutions. /ibna/