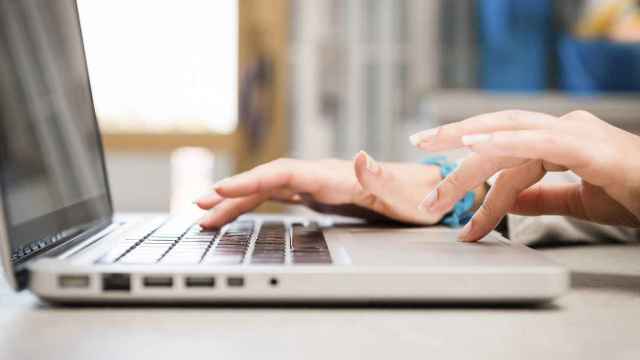 Albanians are more and more interested in "getting their things done" through an electronic public service. In other words, to solve a problem by clicking on the online sites offered by public institutions. This helps them to avoid long queues in offices and above all, save time and money in receiving different services. Such phenomenon is also reflected by the latest figures offered by the National Agency of the Information Society in its annual report for last year.
According to this report, the number of electronic services offered by e-Albania portal amounts to 465, 217 services more than the previous year, 2015. The number of institutions linked to this electronic platform was 42 as opposed to 37 in 2015. In practice, this means that citizens are offered more opportunities and alternatives than before to obtain a service through this portal.
This also means that the number of its users has seen a significant rise, namely 241.621 users and 71 thousand new users have been registered in 2016 alone. But what services are Albanian citizens interested on obtaining through the online platform? According to the data offered by the National Agency of the Information Society, A-level students rank on the top of the list, as they use this platform to check their exam results.
This category is followed by those people who apply for a healthcare card and the ones who apply for a construction permit. Let us not forget the payment of power supply bills, which also occupies a considerable spot in the list of services offered to users of electronic public services. Meanwhile, a growing number of people are also using this portal as a means of "investigating" whether their employer has paid their social contributions or not, given that such service is also offered online now.
Businesses are more interested on filing their financial statements
 Businesses seem to visit the "E-Albania" portal for the purpose of filing their annual financial statements to the National Business Center. With 68233 applications for 2016 alone, this electronic public service is the one that businesses use the most. This service is followed by the application for construction permits with almost one third of the abovementioned services or 20 thousand applications. Then there's payment of power supply and water bills. Meanwhile, representatives of private businesses are also interested in obtaining information on the motor vehicles that they use, such as fines or payment of charges.
70% of online applicants come from Tirana
Around 70% of those people who apply for a public service online, are individuals or businesses from Tirana. Only 30% come from other areas of the country. This reflects the difference that there exists between the capital and other cities of the country in terms of the way people adapt to new ways that technology offers to "solve a problem". Meanwhile, figures indicate that a part of applications at "E-Albania" portal is also made by people outside of Albania. Namely, 7% of visits in this portal have been made from Asia, Europe, and even from Australia, North and South America. This reflects a growing interest for such electronic services from Albanians who live and work abroad. /balkaneu.com/