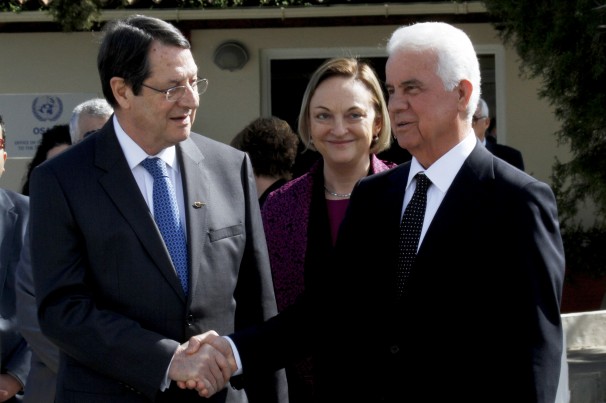 By Kyriacos Kyriacou – Nicosia
Anger meter is increasing worryingly fast in Electricity Authority (EAC) and Cyprus Telecommunications Authority (Cyta) as the parliament's discussion on a government bill to privatize semi-state organizations, continues. Workers in both organisations went again on strike today demanding the cancellation of the bill. EAC caused power cuts, trapping dozens in elevators, while the police was urging the public to be careful when approaching traffic lights that were out of order. Yesterday, two people were injured during clashes between protesters and police outside the Parliament.
Fire service spokeswoman Liza Kemidji said that by 10.30am they had responded to 47 calls from people trapped in elevators, 30 cases in Nicosia, 14 in Limassol and 3 in Larnaka. Police also issued a statement urging the public to be extra careful on the road and avoid using lifts. "Due to the power cuts a number of traffic lights in Nicosia have stopped working. Drivers are urged to be extra careful. The public is also urged to avoid using elevators," police said. No accidents had been reported so far, police said.
The transmission system operator announced at lunchtime that it was suspending the cuts after the EAC decided to increase the supply. The rolling power cuts started at 7am and were scheduled to last until 6pm.
Speaking on behalf the four trade unions of EAC Andreas Panorkos said the measures will be staggered according to developments on the matter. He called on the government to withdraw the Bill and to initiate talks with all interested parties.
Two injured in clashes
Yesterday, clashes between police and electricity company workers outside parliament saw two people injured. The police installed barbed wire around the parliament, as it is expecting new protests during the next days. The government has condemned the incidents. Cyprus President Nicos Anastasiades has asked for an investigation into the inefficient handling of the situation by the police.
In late March 2013 the Cypriot authorities agreed with the European Commission, the European Central Bank and the IMF, collectively known as the Troika, on a €10 billion bailout.
One of the bailout's preconditions was the implementation of a privatisations plan covering the disposal of Cyprus Telecommunications Authority and the Cyprus Ports Authority by 2016 and the Cyprus Electricity Authority by 2018 to generate €1.4 billion in order to restore public debt sustainability.
Finance Minister of the Republic of Cyprus, Harris Georgiades, issued a warning on Monday saying that the only available option for financing the country is the Troika and a failure to approve the privatisation bill for semi-governmental organisations or even the adoption of a significantly amended one will result in a possible halt of the financing.