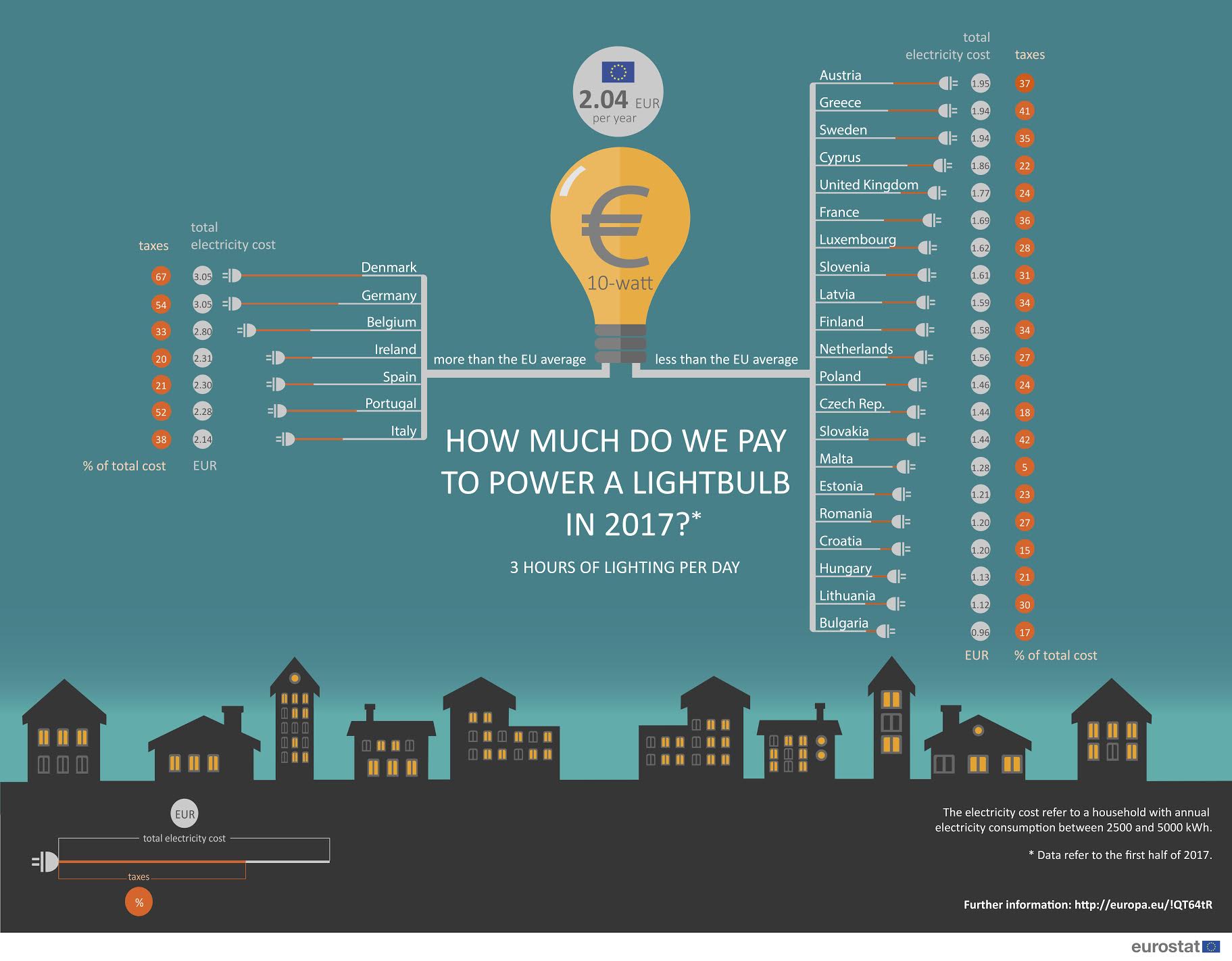 Wholesale electricity prices in the EU in the fourth quarter of 2017 were generally higher compared with the previous quarter.
This was caused by higher seasonal demand at the beginning of the winter period and increasing use of fossil fuels in power generation, as significant nuclear capacities were taken out of use, either due to maintenance works or to safety inspections.
Retail electricity prices for household customers were also up by almost 5% in December 2017 in EU capital cities on average in a year-on-year comparison.
Changes in retail electricity prices were mainly driven by increasing energy and supply costs and energy taxes, whereas changes in network costs had slightly downward impact on the final retail electricity prices.
But, do we know that the electricity bill for households in Greece increased more (+64 %) over the last seven years (2010-2017) than in any other EU country?
In the case of industrial customers with low annual consumption in December 2017 Italy was the most expensive country (with a price of 18.2 Eurocent/kWh), while Sweden was the cheapest (7.9 Eurocent/kWh).
At the same time in the case of households with low annual consumption retail electricity prices were the lowest in Bulgaria (9.9 Eurocent/kWh), while households had to pay the most in Germany (34.0 Eurocent/kWh).
Bulgaria remains the most greenhouse gas-intensive country in the EU.
It is also the most energy-intensive economy in the EU and, while its energy efficiency has improved, continued energy savings will be needed to achieve its 2020 target for energy efficiency.
Bulgaria is on track to meet its renewable energy target for 2020.
In December 2017 the highest retail electricity prices paid by households could be observed in Copenhagen and Berlin (31.5 Eurocent/kWh and 30.9. Eurocent/kWh, respectively), while the cheapest capitals in the EU were Sofia and Bucharest (10.9 Eurocent/kWh, and 11.0 Eurocent/kWh, respectively).
Compared with December 2016, a significant price increase could be observed in Tallinn (24.2%).
Prices also went up in Warsaw (9%), and Zagreb (8.5%).
Retail electricity prices decreased the most in Vilnius (10.2%) and in Bucharest (7.3%).
Energy taxes increased measurably in Madrid and Bratislava, (by 6.6 Eurocent/kWh  and 2.9 Eurocent/kWh, respectively).
New energy market reports show surge in wind energy
More energy from wind was generated in the EU than ever before: 41 TWh (terawatt hours), equivalent to 16% of the EU's electricity mix, according to EU's electricity market report.
Electricity consumption in the EU over the last few years has clearly been decoupled from economic growth.
The EU's GDP increased by almost 12% between 2010 and the end of 2017; over the same period, electricity consumption decreased by 4%.
The three goals
On 30 November 2016, the European Commission presented a new package of measures with the goal of providing the stable legislative framework needed to facilitate the clean energy transition.
With a view to stimulating investment in the clean energy transition, the package has three main goals:
Putting energy efficiency first
Achieving global leadership in renewable energies
Providing a fair deal for consumers
By encouraging cross-border cooperation and mobilizing public and private investment in the clean energy sector (it is estimated that EUR 379 billion will be required each year from 2021 onwards) these proposals have the potential to be good for the economy, generating an estimated 900 000 jobs and an increase of up to 1% in GDP over the next decade.
By embracing renewables (RES) and other new and innovative technologies they also have the potential to be good for the environment – for example, by delivering on new emissions targets for 2030.
They also have the potential to be good for consumers, paving the way to lower consumer bills, a better quality of life at home and in the workplace, and more opportunities for individuals to produce their own clean energy…. / IBNA