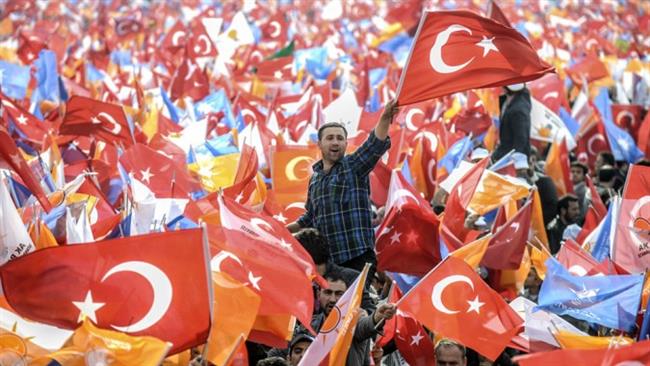 Ankara, November 1, 2015/Independent Balkan News Agency
Electoral record rates for the AKP
By Manolis Kostidis
Turkish citizens are trying to recover from the "electoral triumph" of Recep Tayyip Erdogan and Ahmet Davutoglu, as no poll came close to predicting clear majority and the 49.1% received in the elections of November 1. The AKP won 316 seats out of 550 in the Turkish Parliament and now everyone is expecting the next steps of the 'omnipotent' now Turkish President Erdogan to change the Constitution, which will give him control of all executive powers.
Despite the predictions of all pollsters for the unlikelihood the AKP would achieve a clear majority, to  despite the deadly terrorist attacks, despite the instability in the economy, the AKP achieved a landslide victory in the parliamentary elections. The pro-Islamic party came close to the record level it had received in 2011 with 49.8%.
All other political parties have lost their electoral strength. An impressive feature of the elections is that the pro-Kurdish HDP, based on the number of seats in Parliament, will be the third political force in the country, having received 10.3% of the vote and 59 seats, despite having its rated decreased in relation to June 2015, when it had gotten 13.1%. The big loser is the Nationalist Action Party (MIP), which got 11.9% of the vote, losing about 4.4 points and winning only 41 seats.
The Kurds, despite their reduced rates in the whole region, got more seats than the Nationalists, as they "swept" the country's southeastern provinces which gave a large number of MPs. Seats are calculated in each city, rather than being distributed based on the total rate a party achieves in the whole region.
Turkish Prime Minister Ahmet Davutoglu, in his constituency in Konya promised "calmer days" and stressed that "this victory is a victory for democracy and the people".
"We will embrace those who voted for us and those who did not vote for us, to build a new Turkey", he said.
The president of the HDP, Selahattin Demirtaş, said that "the party resisted the fascism and endured, as the elections were not free nor fair. We could not have a proper election campaign. We were confronted with attacks and massacres. We tried, despite the massacres, to keep our people alive and to protect them. Under these conditions we became third political force in the country".
The Kurds talk about the kamikaze attacks that took place in Ankara and Suruc. "We received dozens of attacks in our offices, 258 innocent civilians were killed in these five months, among who 33 children", said the co-president of the HDP, Figen Yüksekdağ.
Second political force in the country remains the CHP with 25.3% and 134 seats, with its rates remaining almost the same compared to the June elections.
Impressive is the participation rate, which exceeded 86%.