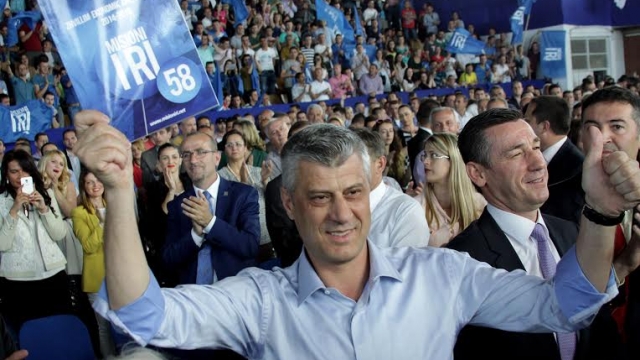 IBNA Special Report
Pristina, May 29, 2014/ Independent Balkan News Agency
By Elton Tota
On the first day of the electoral campaign, all leaders of political parties in Kosovo have expressed their conviction that they will win in the June 8 early parliamentary elections. Unanimously, they repeated what they have said for many years, that they will work for the economic development of Kosovo, rule of law, accession of the country in the Euro Atlantic structures, liberalization of the visa regime and many other ambitious promises.
Renowned Kosovar analysts offer their comments to IBNA by saying that the citizens have realized that politicians offer everything, but their promises are empty and they are made with the only scope of securing as much support as possible on election day.
In a rally held in Pristina, leader of PDK, Hashim Thaci said that his party's program "New Mission" will benefit all citizens, in spite of their political convictions, in order to work together for the best interests of the country.
In a speech delivered in front of his supporters, Thaci declared that PDK, along with coalition partners will secure a big victory in the June 8 elections.
"We have successfully finalized our two big commitments, freedom of our country and to make Kosovo independent and sovereign. We're working to become part of NATO, European Union and UNO. The first two missions were for the state, our new mission is for our citizens".
Thaci reiterated his promise for the creation of 200 thousand new jobs, a promise stressed several times before the official start of the campaign.
The leader of Democratic League of Kosovo (LDK), Isa Mustafa, said in the first electoral rally of this party, that as of today, LDK will start and unveil the reforms that will be carried out under the governance of this party.
"This day is special for us. It's that day that marks the start of the victory of LDK, a day in which we're starting to present our big reforms for Kosovo, our big offer for a developed, democratic and integrated Kosovo", said Mustafa.
He added: "Our motto 'Only we can do it', means that only we can achieve the victory of democracy in Kosovo, only we can offer this country a proper development, wellbeing for our citizens, opportunities for businesses to work without being oppressed, because without economic development, we will not be able to develop our state and we will not be able to have a future".
Meanwhile, in his first rally, leader of Self Determination, Albin Kurti, talked about progressive taxation as a way to reduce unemployment, free education and the importance  of a better management of the economy.
"The banks will work for the citizens and not the opposite", said Kurti. He claims that Self Determination agreement is finding support among the people and adds: "This is necessary, because plants will open, privatizations will be reviewed and industrialization of the country must be made".
Similar promises have also been heard by other party leaders in Kosovo.
Commenting such promises made by political parties, journalist and analyst Shkelzen Dakaj told IBNA that such promises have been heard even before, but have never been realized.
"This is something seen before and it's a bad copy of past promises Why hasn't this government or these who want to come into power, fulfilled these promises so far, given that they claim that these promises can be fulfilled", says Dakaj.
According to him, reduction of employment in a drastic way, the issue of the reduction of banks' interest rates and many other promises, are not feasible in the economic aspect, although politicians enjoy making such promises in order to attract voters.
Analyst and expert of economic affairs, Kushtrim Zekiri told IBNA that promises made by political parties cannot seduce  people, because they have now lost their faith.
"People have realized that politicians offer everything, but such promises are empty promises. They are only made to secure as much support as possible on election day. They could have worked before, but not now, because the people is fed up with such non achievable promises", says Zeikiri.
Analysts say that they have read the programs of political parties and that no methodology for the implementation of such promises is seen there. /ibna/