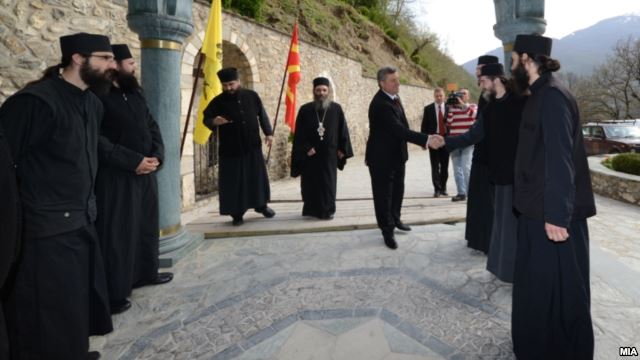 IBNA Special Report
Skopje, April 18, 2014/Independent Balkan News Agency
By Naser Pajaziti
Political parties in the former Yugoslav Republic of Macedonia have not spared their involvement and the use of religion for purposes of gain for the April 27 elections during this electoral campaign.
This situation has been beneficial especially for Macedonian parties, which have taken advantage of Easter.
But, on the other hand, Albanian parties too have not spared religious messages.
The rhetoric of these elections continues to focus on the visits in churches, mosques, monasteries and illustrations through different photographs.
Religious communities and religious organizations say that parties are holding a campaign by using religion, in order to attract voters who are committed to religion or through a vocabulary that encourages religious hatred, in order to attract as many voters as possible.
"Knowing our reality where we have localities known as religious fanatics, especially in Skopje, where Muslim religion dominates, parties are focused on the religious vocabulary between Muslims and Orthodox", says Sulejman Fetiu.
Professor of theology, Ilija Acevski says that religion cannot be misused in electoral campaigns.
"Those who are holding battles for power must not abuse with their behavior against religion, because religion cannot be used during the electoral campaign. Politicians do this for their own benefits", says Acevski. He says that with this strategy, politicians want to show that they are religious, that they have morals and are just.
Presidential candidate of VMRO-DPMNE, George Ivanov and the other presidential candidate of the opposing LSDM (Macedonian Social Democratic League), Stevo Pendarovski have prepared their agenda to visit churches and monasteries on the occasion of Easter.
But this subject has not been missing even in their campaign speeches. There are several messages bearing religious terms which have been constantly used by presidential candidates.
"We're men of faith and men of God and we must help people with our commitment and faith. God cannot do everything for us if we don't act. Therefore, we must participate in the elections and vote for our bright future" is the constant phrase used by the presidential candidate, George Ivanov. He attributes himself the fact that he's the first president who has hosted Iftars for the Muslim believers.
The candidate of the opposition, Stevo Pendarovski has not spared religious messages either. In a message launched by him, he has touched religious issues, but by expressing religious tolerance.
"I belong to the Orthodox faith, but in this electoral campaign I do not only address Orthodox believers and forget Muslim believers. As a candidate, I am very transparent and I represent the multi ethnic and multi religious concept", says Stevo Pendarovski.
But, religious issues have not been left aside even by Albanian parties. They claim that Muslim believers and the Islamic Community in the country have been left aside. According to them, the state takes care of the Orthodox community and the Macedonian Orthodox Church by funding religious projects.
Leader of PDSH (Albanian Democratic Party), Menduh Thaci is more persistent on this issue. He constantly appeals that his party represents the Muslim believers with dignity and it pays a lot of attention to the institution of the Islamic Religious Community.
"The political battle being conducted by PDSH is a national and religious battle. If we come in power, we will return all the properties of the Islamic community nationalized during the communist regime and we will increase investments and show more care for the Muslim religious institution", says Thaci.
The leader of RDK (National Democratic Renaissance), Rufi Osmani says that the current government has done religious discrimination.
"Cross religious relations can be improved through legal equality of all religious communities and especially the Islamic Community with Macedonian Orthodox Church as two religious communities that represent the absolute majority of believers in Macedonia", says Osmani.
According to the official data and data from religious communities, 64% of the population in FYR Macedonia is Orthodox, 33,3% are Muslim, 0,37% are catholic, 0,1% are Hebrew, 1,63% are undeclared. /ibna/