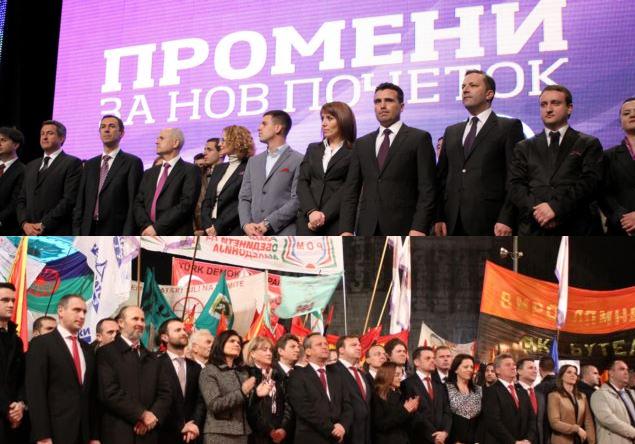 IBNA Special Report/Social and economic programs are dominating the electoral campaign and the offers made by political parties for the early parliamentary elections of April 27 in the former Yugoslav Republic of Macedonia. What do the leaders of the majority and opposition propose
By Naser Pajaziti
At the start of the electoral campaign on April 5, political parties have unveiled their programs and social and economic offers to attract voters.
The biggest Macedonian party, VMRO-DPMNE and prime minister Nikola Gruevski presented an ambitious program full of economic and social promises and promises for the opening of new jobs and plants.
Gruevski said that his party will implement 2 thousand new projects if he wins the elections.
"We promise 64 thousand new jobs and the opening of over 30 plants. We will increase subsidies, loans and financial aid for the opening of new businesses for young people. During the 4 year mandate, there will be a 20% increase in salaries, foreign investments will be attracted and we will implement capital and infrastructural projects", promised Gruevski at the start of the electoral campaign.
But, VMRO-DPMNE's "Verification" program includes the payment of all the debts that citizens owe to the state and other debts for power supply, water and other services.
With its motto, "Changes for a new start", the opposition Macedonian party, LSDM, promises drastic social measures, increase of salaries, application of state pensions for all elderly people, regardless of their years of work, subsidies for people to pay their debts, reduction in the price of power supply and other services, reduction of VAT for individuals and consumers, special measures for the attraction of foreign investors, subsidies and aid for the opening of new businesses for young people amounting to 10 thousand Euros for every unemployed person and other measures.
"We have clear projects which will bring back the poor citizen to life. Our program is based on three pillars: we will bring back the middle class, freedom and we will invest for the future", said the leader of the biggest Macedonian opposition party, LSDM (Macedonian Social Democratic League), Zoran Zaev.
Albanian party Democratic Union for Integration (BDI) which was part of government, says that besides the program for the improvement of the status of Albanians, it also has its own economic and social program. "We have concrete social and economic projects for new employments and to reduce poverty. We have planned the realization of 1800 economic development projects and these projects are linked with infrastructure. All these projects have been drafted and will be funded by government and international sources", declared for IBNA, the high representative of BDI and deputy prime minister for European integration, Fatmir Besimi.
The other Albanian party, Albanian Democratic Party (PDSH) says that it will pay special attention to economy and the serious situation of Albanians. "We have a concrete offer and aim to implement projects for Albanians. The budgets that have been allocated so far are discriminating against Albanians, because very few funds benefit them. We will ask for our part of the budget and we will use this budget to increase social welfare, employment and reduce poverty", said PDSH senior official, Bekim Fazliu.
But, analysts beg to differ with the seductive offers made by political parties.
"These offers are seductive, but how serious and what's the likelihood for them to come true? They are filled with promises which are difficult to be met. All this makes a significant number of voters to be undecided", says Kire Vasilev, expert on European affairs. According to him, projects of political parties offer ideas which can never be implemented in FYR Macedonia.
Citizens too have their dilemmas as far as offers and programs of political parties are concerned. "I don't believe these promises, because we're seeing the same thing being repeated. Nevertheless, we are yet to decide who to vote for on April 27", says Romir S., businessman from Skopje. /ibna/