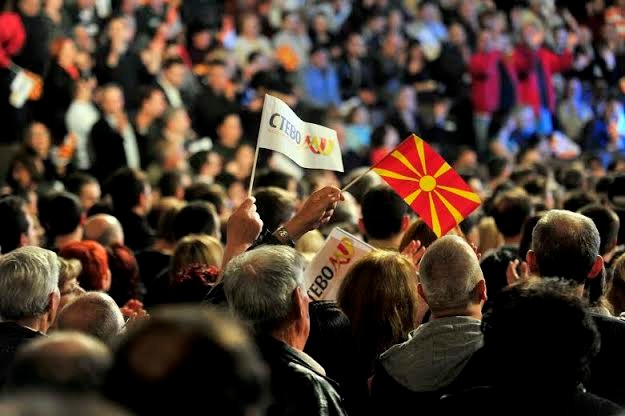 Skopje, March 25, 2014/Independent Balkan News Agency
By Naser Pajaziti
Political parties opened their electoral campaign for the presidential elections last evening in FYR Macedonia.
The first day of the campaign was associated with nationalist tones and issues that relate to national and ethnic aspects.
The largest Macedonian party, VMRO-DPMNE and its candidate, George Ivanov sent messages from the city of Ohrid, stressing that they would protect Macedonian national interests.
"It's been 23 years that we're hearing lies, that we are not good neighbors, that we have territorial claims and that we have an invented language. For 23 years we've been demanded to give up on our identity. A man can give up on something given to him or something earned, but not from its identity. In spite of all pressures, we continue to stand on our feet", declared VMRO-DPMNE's presidential candidate, George Ivanov.
Ivanov said that he will never accept any constitutional changes on the issue of the country's name.
Meanwhile, prime minister Nikola Gruevski said that in the next term in office, Ivanov will be the president of all the citizens, although this may not suit to the Albanian party Democratic Union for Integration (BDI), which refused this nomination and which is boycotting the elections.
"Do you know why Ivanov doesn't suit BDI? Because he's a president who doesn't make compromises when it comes to the interests of the Macedonian people. It has nothing to do with him being a consensual candidate or not. They are well aware that he's a suitable candidate for everyone. This is why the majority of people in Macedonia will vote in his favor", said Gruevski.
Macedonian opposition, led by Macedonian Social Democratic League (LSDM) started its campaign with a convention in Skopje. Its candidate, Stevo Pendarovski called for unity, freedom and justice, as one of his main pillars if he's elected as the next president of the country.
"These are the basic values for which I will not make a compromise with any political force. I'm offering a clear concept as to how we will fulfill our common goals. Our country doesn't deserve to remain hostage of someone's frustrations. This country deserves to move forward. We don't have domestic enemies. All the citizens want a better life, without political or ethnic differences. Macedonia can resolve all problems through an internal cohesion and a strong alliance with the biggest world powers", declared presidential candidate Pendarovski. He said that nobody must me excluded, for supporting one party or another.
"The current government is clashing with everyone, but this division must no longer exist", said Pendarovski, adding that citizens must make their choice for a freer country.
Albanian Democratic Party (PDSH) and the only Albanian candidate, Iljaz Halimi started the campaign last night in Skopje. Head of PDSH, Menduh Thaci launched strong criticism toward BDI, Ali Ahmeti and Nikola Gruevski.
Presidential candidate Iljaz Halimi demanded the vote of the Albanian community, by criticizing the positioning of the Albanian opposing party which is boycotting the elections.
"I call on people to massively vote on April 13 and to support me, because I'm convinced that I will not disappoint them, as I think that it's now time for an Albanian president. We have also voted for former Macedonian presidents such as Gligorov, Trajkovski or Ivanov and I believe that Macedonians will know how to break cross ethnic barriers. Therefore, they have the best opportunity to support me and this way, to have a state leader who will also be sympathetic in the eyes of the international factor", declared Halimi.
But, the other Albanian party, BDI, although it has chosen to boycott the elections, it has decided to hold a campaign with the slogan "No unilateral president". In a rally held in Kercova, the head of this party, Ali Ahmeti underlined that Albanians must say no to the next president who lacks consensus and they must prove this through unity, like it was proven in the local government 2013 elections with the victory of Kercova by Albanians after more than 70 years.
"This victory has its roots in the visionary politics of BDI which calls on you not to vote any candidates, given that there's no will for a consensual candidate. This country needs a president who will represent all communities. We stick to our idea and there's a way to achieve this. For this, we must sit and talk. We believe that the state leader must represent all, because this country belongs to everyone", said Ali Ahmeti.
Ahmeti appealed for unity between Albanians, in order to advance with their rights and demands. /ibna/