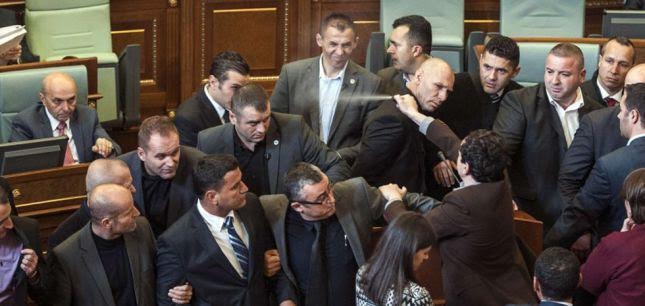 Pristina, 11 March 2016/Independent Balkan News Agency
By Elton Tota
The political crisis in Kosovo is not coming to an end. The opposition has pledged that it will continue its political action until the government resigns.
In Thursday's parliamentary session, opposition MPs once again used teargas and different methods to prevent the work of the Parliament of Kosovo.
On the other hand, the majority has not reflected so far about the opposition's requests on the annulment of the Brussels' agreements with Serbia and the declaration of early parliamentary elections.
Prime Minister Isa Mustafa has demanded the launch of dialogue, while the opposition says that it does not hold talks with those who violate the provisions and principles of Constitution.
Experts of political developments see the solution of the political crisis through the holding of fresh parliamentary elections.
The prominent entrepreneur, Behgjet Pacolli who is also leader of New Kosovo Alliance, says that in order to solve the crisis, early elections must be held in 2017.
"I'm very worried about what is happening in the parliament of Kosovo. I believe that it is no longer impossible for majority and opposition to talk, therefore an urgent solution must be found", Pacolli said.
According to him, "if political players in Kosovo care about the people and their state, they must talk and decide:
a) Early elections at the beginning of 2017.
b) The opposition must return to parliament and collaborated in order for the processes to move forward.
c) The electoral reform and the bill on the president must be approved this year.
According to Pacolli, this would be a solution which would convene to everyone.
Analyst Vilhard Shala told IBNA that the political crisis has damaged Kosovo's image in the eyes of the international community.
According to him, the crisis has damaged Euro Atlantic processes and economic development.
"The political class is behaving in an irresponsible way. While the coalition is battling to maintain power, the opposition is aiming the opposite. In these circumstances, the state's interests have been neglected along with the interests of the citizens who want political and institutional stability, new jobs, wellbeing and perspective", Shala said.
He says that the international community in Kosovo is not managing to sit the political blocks in the table of talks. "Therefore, the only solution for a new political legitimacy rests on new elections", Shala said. /ibna/