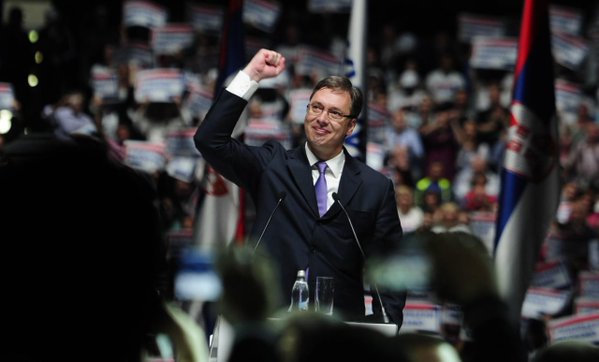 Belgrade, April 25, 2016/ Independent Balkan News Agency
By Milos Mitrovic
The expectations are confirmed: ruling Serbian Progressive Party (SNS) led by Prime Minister AleksandarVucic achieved decisive victory on early elections on Sunday. But with gaining 48.26 percent of the votes – according to latest data published this morning – the progressives scored almost the same result it has got in 2014 elections (48.35 percent). And, just like in 2014, SNS would be able to form the government alone; at this moment it's not clear whether this would be the case.
Two years ago Vucic decided to create coalition with the Socialist Party of Serbia (SPS) led by current Foreign Minister IvicaDacic. SPS is now second strongest party with 11.37 percent – slightly backward when compared to 2014 when it gained 13.49 percent and was also second. But electoral campaign was marked with trading harsh words between SNS and SPS and coalition is uncertain.
Not surprisingly, ultra-nationalist Serbian Radical Party (SRS), a group whose high official Vucic was for years, succeeded to comeback to parliamentary benches after four years taking third place and 7.97 percent of the votes. SRS should thank for this to its leader Vojislav Seselj, who was recently found not guilty for war crimes. Seselj spent almost 12 years at the detention center of the International Criminal Tribunal for the former Yugoslavia in The Hague.
The success of SRS makes the difference with 2014 elections. Namely, all MP's chosen two years ago were supportive to Serbia's integration into European Union. SRS is strongly pro-Russian and against Serbian membership in EU and NATO.
At this moment it is out of doubt that Democratic Party (DS), long time ruling group after the overthrow of strongman Slobodan Milosevic, made it to pass the five percent threshold, as well as the reformist movement "It's enough" led by former Vucic's  minister SasaRadulovic. This movement made great success, taking the votes from other pro-European groups, mostly among urban population.
Coalition led by former President Boris Tadic still swings around the threshold as well as pro-Russian group DSS-Dveri.
SNS also won elections for the assembly of the Vojvodina province, where DS ruled for 15 years, taking 45 percent of the votes as well as the most municipal elections organized simultaneously.
While opposition complains on irregularities and media usurpation by the SNS, Vucic's group claims that voting was fair. More specific results are expected later today.