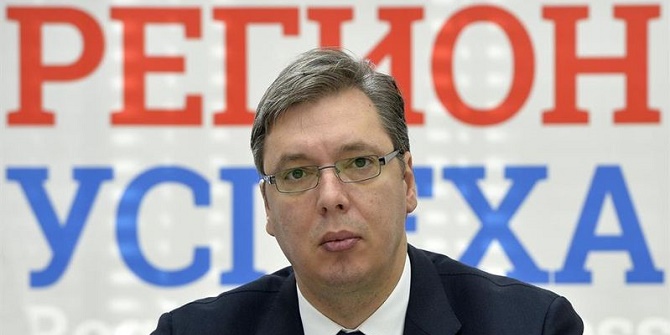 Maja Gojkovic, head of Serbian parliament, has called presidential elections for April 2. "I wish to citizens to elect the best candidate which will seriously and responsibly cooperate with the Government of the Republic of Serbia ant fight, alongside with it, for the preserving the political and economic stability achieved in the country so far, as well as for the freedom and sovereignty of the Republic of Serbia", Gojkovic said. At the same time, opposition leaders criticized Gojkovic's decision to "pause" the parliament session until the end of the elections, calling it "a coup".
On Wednesday Gojkovic announced the "break" for the parliament, claiming that the opposition insulted her and did not want to discuss how the parliament would work during the campaign. The leading opposition presidential nominees called prime minister Aleksandar Vucic to unblock the parliament and to resign.
"We demand from Aleksandar Vucic to unblock the functioning of the parliament, to resign from prime minister's post if he is going to run for president, and to enable fair elections", former foreign minister and presidential hopeful Vuk Jeremic said.
The ruling Serbian Progressive Party (SNS) led by Vucic last month decided to nominate Vucic for president. "If Vucic does not accept our demands, we would take joint steps to defend constitutional order", Jeremic promised.
Former ombudsman Sasa Jankovic, who also runs for president, called Vucic to resign suggesting that "pausing" the session of the parliament means making elections irregular. Sasa Radulovic, leader of the movement "Enough is enough", said that Vucic has suspended parliament and enacted a kind of "state of emergency".
The term of the incumbent president Tomislav Nikolic expires on May 31.