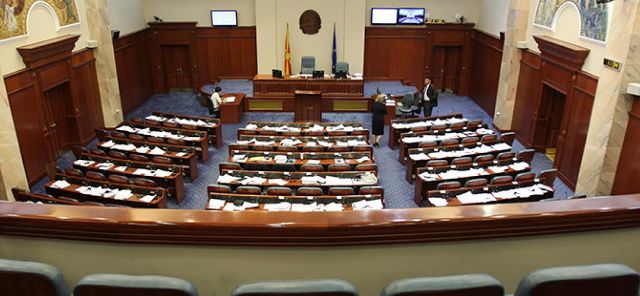 Skopje, 7 December 2015/Independent Balkan News Agency
By Naser Pajaziti
Political parties in FYR Macedonia are delaying the implementation of the June 2 agreement, which aims at overcoming the political crisis. The reform in the media and the election of the State Election Commission are two of the issues for which parties have not come to an agreement.
Political analysts say that parties must not cause delays, because elections are near.
As far as the media is concerned, talks have come to a gridlock in regards to the functioning of the Agency for Audio and Visual Media Services and Macedonian Radiotelevision (MRTV). SDSM proposes that these institutions should be independent and not be influenced by politics.
Political parties care also unable to elect the names of candidates for the State Election Commission. A week has expired from the deadline to elect the new SEC. With the new election code, SEC has more powers.
Former head of SEC, Aleksandar Novakovski told IBNA that there isn't a lot of time remaning until the elections and that political parties must find a solution as soon as possible. "These elections are very specific and so far, there are no results in the reorganization of SEC. New regulations must be approved, voters lists must be cleared of any irregularity and a new technical team must be appointed in the framework of the commission", Novakovski says.
An OSCE/ODIHR team has arrived to Skopje and is preparing the preliminary reports in relation to the pre election period in the country. This mission has warned that during the coming period, it will publish information and recommendations for the electoral process.
Western diplomats stress that there's no time to waste and that political sides must at once reach an agreement.
"It's very important to reach an agreement on the media, because media has a crucial role in the electoral process. This law also regulates the financial transparency of the government in relation to the media", the Hungarian ambassador, Wouter Plomp said.
The final stage of the implementation of the political agreement is in mid January, when PM Nikola Gruevski will hand in his resignation and a new government will be formed with a prime minister proposed by VMRO-DPMNE.
Meanwhile, parliament must issue a report in relation to the political responsibility regarding the wiretapping affair. A parliamentary select committee has launched inquiries on this, while this case will also be investigated by Special Prosecution, which has been formed under the June 2 political agreement. /ibna/