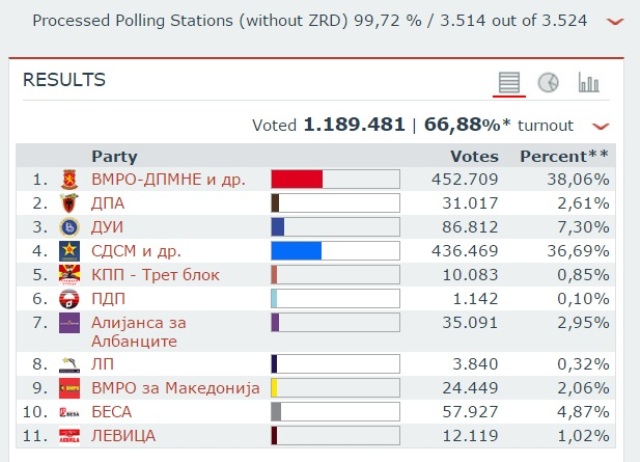 Nothing new in the elections in the former Yugoslav Republic of Macedonia. Although there was a long political crisis, the elections were postponed several times in order to reach acceptable standards, although the opposition had many expectations, this process was won by VMRO-DPMNE of former PM Nikola Gruevski. Thus, this party wins the elections in FYROM for the tenth time.
Gruevski's victory was mostly due to the support of Macedonian citizens and several other nationalities, such as Serbs, Vlahs, etc.
The opposition managed to narrow VMRO-DPMNE's results, as many of the Albanians of FYROM voted in its favor.
Official data
The State Election Commission announced this morning that almost all the counting of the ballots for the early general elections of 11 December in the country has been completed.
According to SEC, turnout in the elections was around 1.2 million voters or 67%. This figure is at least 7% higher than previous elections.
From the counting of 99.8% of votes, it results that the coalition led by VMRO-DPMNE of former PM Nikola Gruevski has received 452 709 votes or 38.06% of the total.
The opposition coalition led by SDSM has received 436 469 votes or 36.69%.
The Albanian parties have won fewer seats than before, due to their divisions.
VMRO-DPMNE has the biggest chances of forming a government, as it will dominate the 120 seat parliament.
Everyone is expecting for the old tradition of the coalition of this party with one of the Albanian parties, BDI of Ali Ahmeti, to be restored once again. /balkaneu.com/