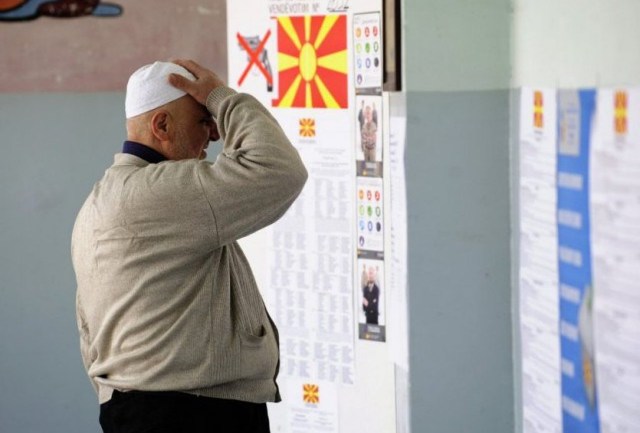 IBNA Newsroom's special report, with reports from Skopje and Tetovo
In Skopje, political developments are still heated, as the two main coalitions, the one led by VMRO-DPMNE of former PM Nikola Gruevski and that of SDSM of Zoran Zaev, both declared that they had won.
The first one to do this was SDSM, which thanked the voters for the confidence given to this party. Zoran Zaev said that the Macedonian Social Democratic Union, which is led by him, has won 52 seats, while VMRO had won 51 seats.
"You have written history. You will have something to tell to your children and nephews. I am proud of you, Macedonia is proud of you. The regime was defeated and the future won. These are historical moments and we showed to the world that we can make it. Macedonia will be free, democratic and it will move forward", said Zoran Zaev, leader of SDSM.
A little later, the victory was also announced by VMRO-DPMNE of former PM Nikola Gruevski.
"VMRO-DPMNE and the coalition for a better Macedonia won today. The Republic of Macedonia won today. The majority of the citizens of Macedonia voted for our vision, team and the way we work and plan the future", Gruevski said.
Meanwhile, the Albanian political block scored a weaker result than in previous elections, losing many mandates in the 120 seat parliament.
This was also admitted by BDI-Democratic Union for Integration, blaming the large number of political parties about this.
"I'm sorry to say that Albanians have lost many mandates. BDI has won the elections, but I have always been interested for Albanians to win and BDI's victory doesn't fill me with joy", Ahmeti declared.
Ahmeti implied that he will enter the traditional coalition with Gruevski when he said that "BDI remains committed in defending its platform that was presented to the Albanians of Macedonia".
The big defeat in the elections was also admitted by PDSH-Democratic Party of Albanians, which is ranked the last political force among Albanians. Its leader, Menduh Thaci said that this election was won by Besa movement and was lost by BDI of Ali Ahmeti.
"This is a lost battle, however allow me to stress that the elections saw the real winner among Albanians. BDI has seen a catastrophic loss. The elections among Albanians were won by Besa movement in coalition with RD and I personally congratulate them for this", Thaci said, offering unconditional support for the new political party.
Besa Movement, the newest Albanian political party, has blamed BDI's policies, which according to this party, have caused much harm to Albanians.
"These elections were lost by BDI and won by Albanians", said Bilall Kasami, head of Besa Movement.
Official data
The State Election Commission announced this morning that almost all the counting of the ballots for the early general elections of 11 December in the country has been completed.
According to SEC, turnout in the elections was around 1.2 million voters or 67%. This figure is at least 7% higher than previous elections.
From the counting of 99.8% of votes, it results that the coalition led by VMRO-DPMNE of former PM Nikola Gruevski has received 452 709 votes or 38.06% of the total.
The opposition coalition led by SDSM has received 436 469 votes or 36.69%.