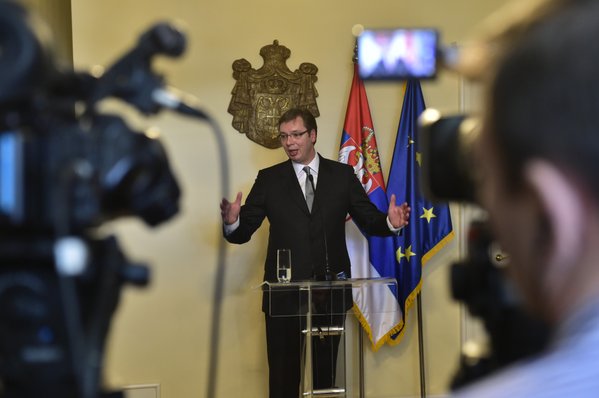 Belgrade, January 19, 2016/ Independent Balkan News Agency
By Milos Mitrovic
Why Serbian Prime Minister AleksandarVucic has decided that country should go to early elections? Because Serbian televisions have not paid enough attention to him; due to the fact that country must not sacrifice voting for the sake of reforms; finally, spending money in electoral campaign would increase GDP. These are the answers given by popular satirical website njuz.net.
But according to Prime Minister, the government needs "full mandate",  in order to complete reforms until 2020, when Serbia should end its accession negotiations with the European Union, in accordance with Vucic's ambitious plans.
Still, it's questionable what "full mandate" means, taking into account that Vucic controls 158 members of parliament, out of 250, as well as two-thirds majority together with coalition partners.
Voting would also terminate "social conflicts" in Serbia, as he said at his Serbian Progressive Party (SNS) Central Committee meeting on Sunday. Premier explained that since SNS took power in 2014 – after winning elections with outright majority – country has been marred with conflicts; allegedly, SNS was faced with "enormous resistance" because "it has been striving to break the block of tycoons, politicians and criminals who haven't find interest in progress of Serbia and in any changes".
He claimed that reforms were blocked for 10 years, until he came to power. But Vucic did not mention his own responsibility and chauvinistic, anti-European politics he has conducted from 1993 until 2008.
PM's speech followed by frenetic applause of his supporters was contradictory given that he has also said that voting is needed because Serbia needs "four more years of stability".
Serbia is the anchor of stability in the region, Vucic said.
He also announced he would say goodbye to "thugs" from SNS after the voting. However, it remained unclear to whom Vucic alluded. Defence Minister BratislavGasic may be among "thugs"; Vucic promised his dismissal in early December, after Gasic's sexist incident, but minister is still in the office.
During 2015 certain media which becameVucic's personal propaganda tools claimed that SNS Vice President and Deputy PM ZoranaMihajlovic took part in alleged plots against premier.
The general elections will be held alongside with local ones, and voting in Autonomous Province of Vojvodina. The article published on the pescanik.net website suggested that early parliamentary elections calling reflects "intention to improve SNS's result in local and provincial level with belief that something like this would be possible only if PM is directly involved in the campaign".
In the analysis, author Sofija Mandic wonders whether the ideal for Vucic would be to have 250 out of 250 members of parliament. "It seems that ruling party and its president strive exactly toward this objective which is worrisome, destructive and defeating for the citizens", she concluded.
Although some analysts suggest that SNS's popularity slightly decreased, they agree that Vucic's group would win the elections. On the other hand, the prospects for at least some democratic opposition parties could be gloomy with possible failure to pass five percent threshold and remain in parliament.