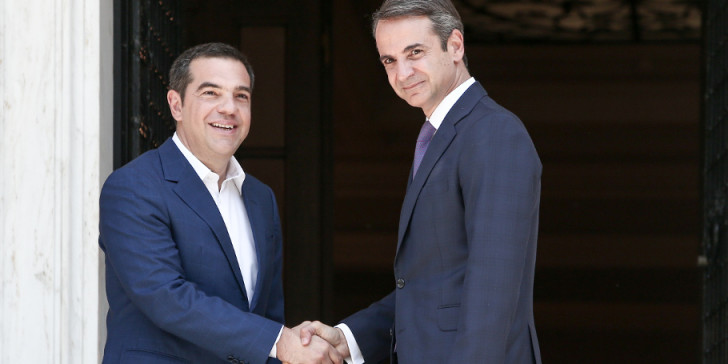 The New Democracy government headed by Kyriacos Mitsotakis is set to be sworn in on Tuesday, with the new cabinet meeting on Wednesday morning.
The new center-right administration was announced on Monday, with Mitsotakis hoping to immediately begin to address pressing issues in the economy and the interior.
Analyzing Sunday's election result, observers characterize it as a "win-win-win", as both New Democracy and outgoing SYRIZA can claim scoring victories, while the Greek political system as a whole took a sharp turn to normality as neo-Nazi Golden Dawn failed to elect any MPs to the 300-member House.
New Democracy won the outright majority Mitsotakis had requested from the electorate, allowing the party to implement its plan for the country over an uninterrupted four-year term. Moreover, Mitsotakis will not have to seek a coalition to push through his agenda. Nevertheless, the new Prime Minister will still have to convince Brussels to grant the fiscal space needed to implement parts of a costly manifesto that includes tax reductions.
The SYRIZA camp is also pleased by the fact that despite losing the election, Sunday's result was by no means a "strategic" defeat. Analysts point out that Alexis Tsipras will now have the time to reorganize his party as leader of the main opposition, while retaining enough power to shift SYRIZA to the center-left of the political spectrum.
Moreover, various analyses agree that the defeat of neo-Nazi Golden Dawn – many members of who face charges connected to the member of a left-wing activist – is highly significant for Greek politics, as it will serve to heal the division and political anomaly seen at the height of the economic crisis.
At a handover ceremony on Monday afternoon, Alexis Tsipras and Kyriacos Mitsotakis appeared to be on good terms, despite the pressure of Sunday's election and the fierce political battle they fought. No matter how tough SYRIZA will be in its opposition to the government, a period of much-needed stability is possible for Greece./ibna