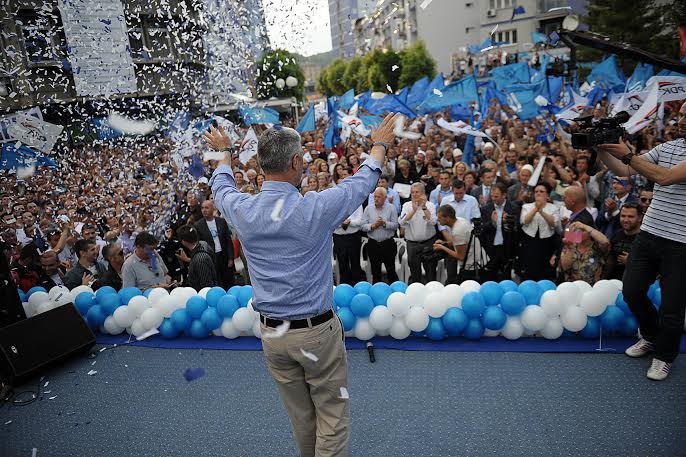 Pristina, June 6, 2014. Independent Balkan News Agency
By Elton Tota
Today is the last day of the 10 day election campaign in Kosovo for Sunday's early elections. Political parties are expected to hold today their final electoral rallies in different parts of the country. They continue with their promises for economic growth, rule of law and integration in the Euro Atlantic structures, reports IBNA's correspondent in Pristina.
Prime minister of Kosovo, Hashim Thaci has presented the program of his party called "New Mission", which among others promises the creation of 200 thousand new jobs for the next four years.
"With the implementation of the new program 'New Mission', economic development, expansion and development of your businesses is guaranteed. We will open 200 thousand new jobs and we will invest 1,5 billion Euros through the Employment Fund", is the main promise made by prime minister Thaci.
Leader of the Democratic Party of Kosovo (LDK), Isa Mustafa declared during the campaign that he's convinced that LDK will receive a strong support by voters on June 8. He says that PDK of Hashim Thaci along with his true allies will end up in opposition.
"We will defeat PDK and its allies. Self Determination too, which pretends as if it's criticizing PDK, but which in fact works for PDK and Hashim Thaci. With our governing, we will also teach those who have badly governed and those who have taken power and don't know how to work", says Mustafa.
Mustafa is convinced that his party will score a big victory in the June 8 elections. He promises that "LDK government will make the big turn in order to change the chaotic and degrading state that the bad governing has reduced the country to, where organized and corruption rule".
Leader of Self Determination has continued the campaign by using strong tones of criticism against Thaci's government.
Albin Kurti says that 'departing prime minister' must run for the post of the prime minister of Serbia and not that of Kosovo.
"Thaci gave Serbia 10 communes of Kosovo. He's allowing Serb products to swarm the country's markets, creating new jobs for Serbia. Self Determination is the only political party which keeps its promises. Our government will not only guarantee rule of law, but wellbeing too", says Kurti.
Leader of the Alliance for the Future of Kosovok, Ramush Haradinaj calls on the citizens of Kosovo not to vote Hashim Thaci and PDK, because, like he said, problems will never end.
Other opposition parties such as the New Kosovo Alliance and Incentive for Kosovo too have promised economic development and rule of law.
The election campaign will continue until midnight tonight. On Saturday there will be electoral silence and on Sunday, June 8, it's election day.
Central Election Commission has certified 30 participating subjects to run for these elections. They race for 100 seats in parliament, while 20 other seats are guaranteed seats for minority communities.
The winning party will be authorized to form the government, which based on all predictions, will once again be comprised of a coalition of different parties. /ibna/