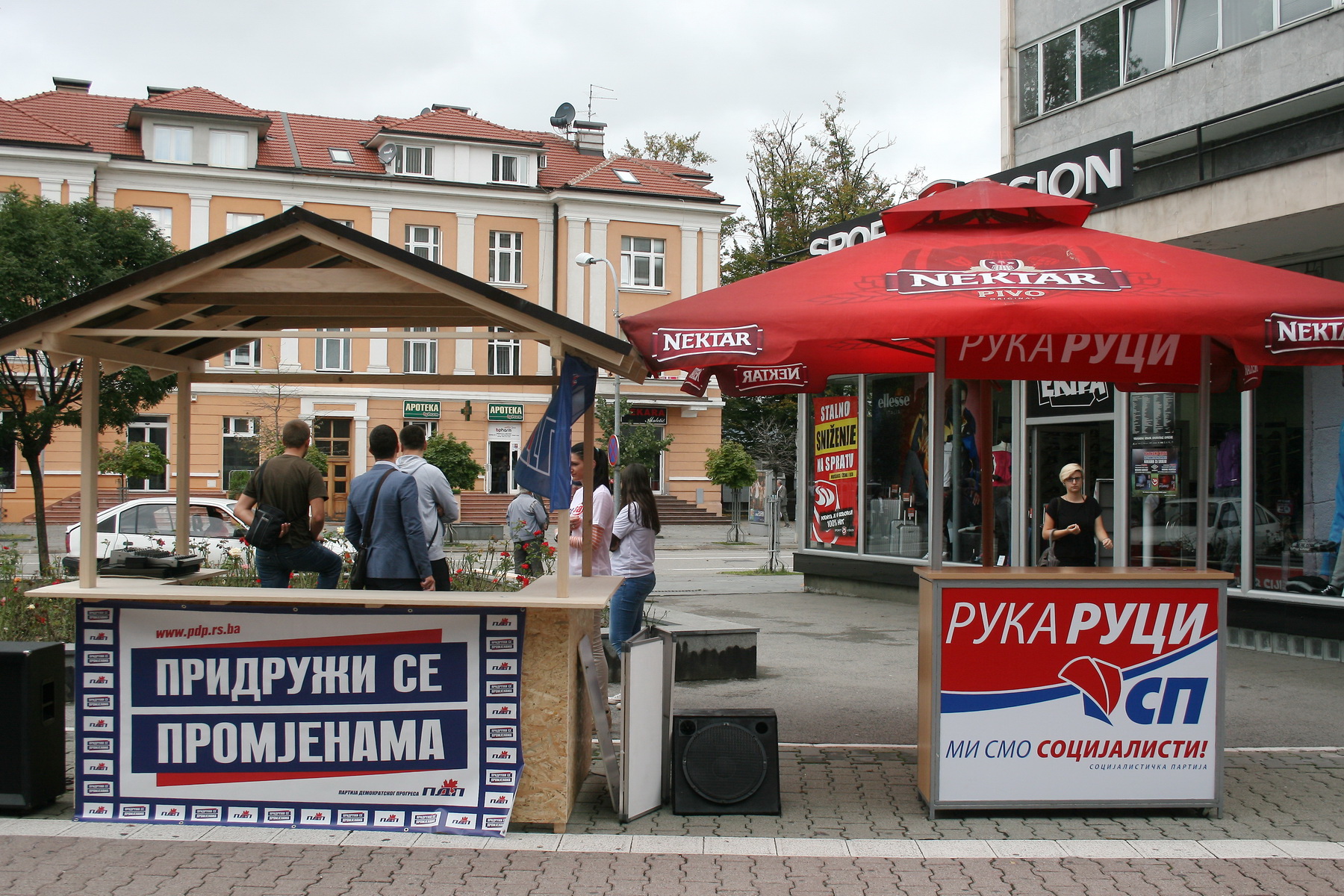 By Mladen Dragojlovic – Banja Luka
Political parties and independent candidates in BiH have just one more week to convince voters that they are the best choice for the future of the country. In same time, unfair play in this election campaign, during the weekend, reached its peak, with hate language and insults.
Since the campaign begun on September 12, it was clear that most of the parties in BiH would use every possible argument to discredit their electoral opponents and to show how they are honest and have new ideas to bring a better future to the nation. In Federation BiH, the biggest battle is between the Bosniak parties, the "Party of Democratic Action (SDA) and the Party for a Better Future (SBB). Both of them are showing to public how leaders of other party are corrupted and stole large sums of money from citizens.
In Republic of Srpska (RS), this dispute came on the higher level when supporters of the "Alliance for Change" (coalition of opposition parties), on the election rally in the city of Trebinje, were chanting slogans "Zeljka is a prostitute" and "Mile is a thief". "Zeljka" from the slogan is Zeljka Cvijanovic, actual president of RS Government and candidate for a member of BiH Presidency in the election, and "Mile" is Milorad Dodik, leader of ruling Alliance of Independent Social Democrats (SNSD), actual president of RS and candidate for same position in the coming election.
SNSD demanded from the Central Election Commision in Sarajevo to make an official investigation on these events, because the leaders of the parties gathered in opposition coalition were on the rally but did not react at the insults. SNSD leader, Milorad Dodik, rated the insults of Prime Minister Cvijanovic as primitivism and attempt to create an atmosphere of lynch.
"This is not just an attack on the Prime Minister, but to all women. The slogans we heard in Trebinje are embarrassing for everyone", said Dodik to the media.
He added that it looks impossible that some people, even university professors, just sat there and didn't respond to anything.
There is also bright side to the electoral campaign however, and this is the young political activists who promote different political parties on central Banja Luka square, Trg Krajine. As they said for IBNA, cooperation between them is very good.
"We help each other, keeping an eye on the promotional material if somebody must go to buy food or coffee. There is no big difference between us although we come from different parties", said one of them.
They didn't want to speak publicly or to be photographed because, as they said, somebody "higher in the hierarchy of the party" might get angry. But the fact is that these young people, who know how to cooperate, are the future of BiH.