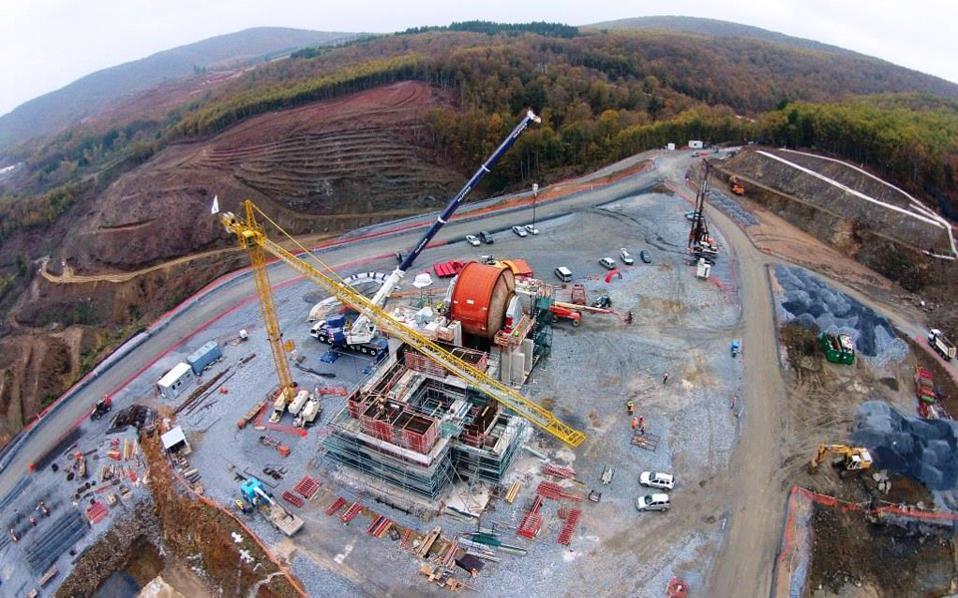 Canadian miner Eldorado Gold ended its high-profile dispute with the Greek State on Thursday by announcing that it has begun constructive talks with the country's government over pending permits for works in the Halkidiki region in northern Greece.
The company had previously announced plans to suspend investment at its operating mines, development projects and exploration assets in Greece, citing delays in issuing routine permits and licenses for the construction and development of the Skouries and Olympias projects in Halkidiki.
The issue sparked political uproar by Greece's opposition parties who accused the country's coalition government of being hostile to investors and sending a negative message to international markets and prospective investors.
The climate for the Syriza-ANEL government took a turn for the better on Thursday as Eldorado Gold issued an announcement with which it made clear that it will "temporarily postpone our decision to place our assets in Halkidiki on care and maintenance".
George Burns, President and Chief Executive Officer of Eldorado, commented: "We are very pleased with the constructive dialogue that is underway with the Ministry of Energy and Environment.  Furthermore, last week the Ministry issued a number of long overdue routine permits for our Olympias project.  As a result of these developments we have decided to temporarily postpone our decision to place our assets in Halkidiki on care and maintenance."
Mr. Burns added: "We preserve the right to place our assets on care and maintenance and to take prompt legal action to protect the Company and its assets in Greece should our dialogue with the Ministry of Energy and Environment prove unsuccessful.  At the same time, we remain confident that the arbitration process initiated last week by the Greek government will be concluded in a timely and efficient manner, for the benefit of all stakeholders."
Earlier on Thursday, workers of Hellas Gold, the Greek subsidiary of Eldorado, staged a protest at the Environment and Energy Ministry in Athens that resulted in traffic jams in the city center. The workers had launched a 48-hour strike and traveled to the capital from the company's mines on Halkidiki to hold the demonstration and demand the issuance of remaining permits for a mine at Skouries.
Since acquiring the Kassandra Mines for nearly USD2 billion in 2012, Eldorado has invested an additional USD1 billion in the country.  That figure would double if Eldorado were able to fully develop its Olympias, Skouries and Perama Hill assets.
Eldorado's decision will give the Tsipras administration a breather from a hectic last few days that have landed the government in hot water. The government is reeling from an environmental crisis following an oil spill from a sunken tanker in the Saronic Gulf. Repercussions from the oil spill continue to impact both greater Athens area's seas and the country's political landscape./IBNA