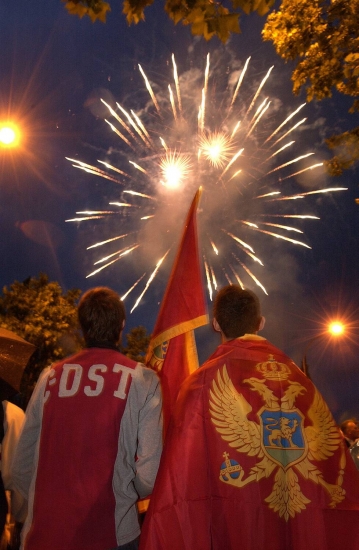 By Adnan Prekic – Podgorica
Montenegro celebrates its Independence Day, when eight years ago on May 21, 2006, the state restored its independence. Montenegro became an independent state in 1878 at the Berlin Congress, but in 1918 its statehood was abolished with the creation of Yugoslavia. Montenegrin independence was re-established after the Second World War in 1945. When in the early 90s the states of the former Yugoslavia began to become independence, Montenegro remained in union with Serbia. Eight years after the restoration of its independence, all in Montenegro agree that a lot have been done, but a lot more could be done.
According to the official results of the May 21, 2006 referendum, 419 240 people, or 86.5 percent of the total number of voters took part. Montenegrin independence was backed by 230,661 people, or 55.5%, while thos in favor of remaining with Serbia were 185,002 or 44.5%. The Parliament of Montenegro has previously adopted the referendum law, which was agreed with the recommendation of the European Union. For the success of the referendum the support the 55% of the voters was needed. The first state to recognize Montenegro was Island in June 2006 and the first embassy that opened was that of Slovenia in June 21, 2006. Montenegro was admitted to the OSCE, and on June 28 the Montenegrin flag fluttered across the East River and Montenegro officially became the 192nd member of the UN.
If we have a brief overview what had happened in Montenegro over the past eight years, we would conclude that much has been done, but it certainly could and should have been more. Montenegro, eight years after its independence, is expecting an invitation to join NATO; the call is expected at the summit of NATO in Wales. The eighth anniversary of the Independence of Montenegro has been greeted with negotiations for membership in the European Union. Negotiations were opened in several important chapters and Montenegro has successfully executed nearly all of its European obligations. In the process of the negotiations with Brussels, the area where the least progress has been made is that of the  fight against corruption and organized crime. The European Commission has the most objections regarding issues related with corruption and organised crime, with these two areas remaining the top priority obligations of Montenegro.
Montenegrin economy has made ​​great progress in the last eight years. Compared to 2006 salaries and pensions are much higher, but the state debt is also high. Montenegro built its economic system in periods of economic expansion with an average growth rate of 8.7% and with the highest amount of foreign direct investment per capita in Europe, 1,600 euros, or a total amount of 25% of the gross domestic product. Over the past year GDP growth stood at 2.6% and in 2014 there is an expected growth of of 3.6%.