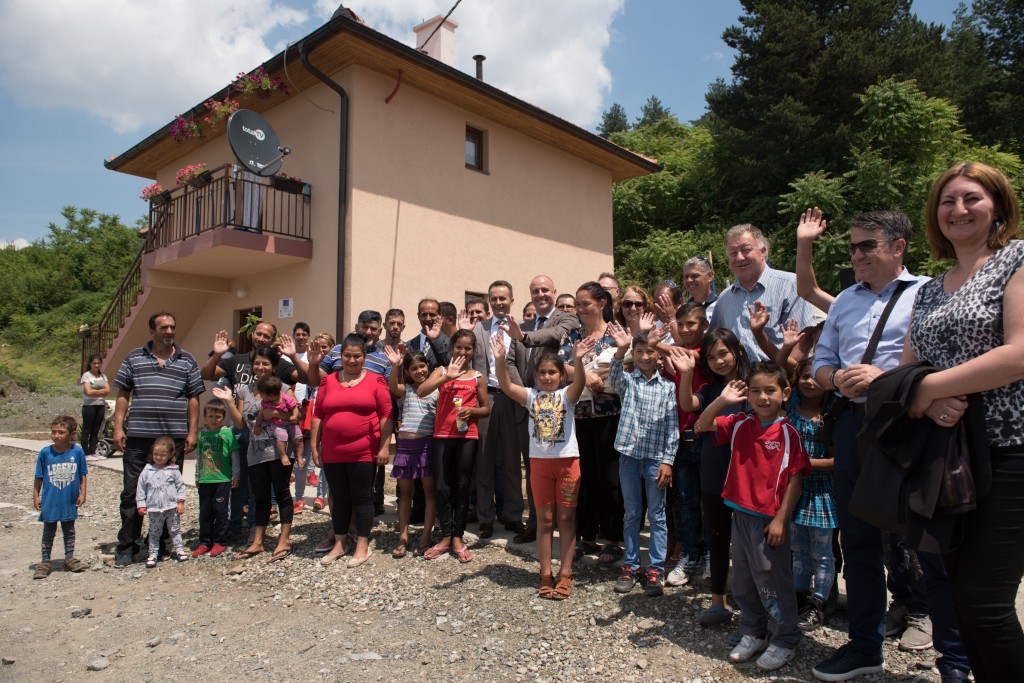 Eight Roma families in Banovici municipality, near City of Tuzla, received the keys for the apartments in two newly constructed social housing buildings and it may represent a new beginning for them, and a brighter future for their kids.
Within the frame of Roma Action project, funded by the European Union and co-funded by local authorities, Roma families who lived in bad and unhealthy conditions will finally have a decent home and a normal life.
Deputy Head of EU Delegation to BiH, Khaldoun Sinno, said at the ceremony in Banovici that the EU was determined to assist BiH to ensure equal rights and better future for all its citizens. As it was announced from EU Delegation, Sinno said that BiH institutions have joint responsibility to improve Roma integration and inclusion.
"The EU invested 10 million BAM (five million Euro) since 2013 in this project and we have built and reconstructed many housing units for Roma families. We are now in the second phase of the project. We already delivered new apartments to Roma families in Kakanj Municipality and we will continue doing so in the seven more municipalities. This is a concrete sign of improving your lives and enabling you to have the same opportunities and chances as any other citizen in BiH", Sinno said.
Midhat Husic, Mayor of Banovici Municipality, underlined the efforts made by the Municipality towards finding housing solutions for Roma citizens.
"In the past three to four years we have managed several significant projects related to Roma housing and constructed nearly 30 housing units. Today we are opening two social buildings with eight housing units. I wish to thank our partners who contributed to the construction of these projects and congratulate all beneficiaries for their new homes", Husic said.
Suzana Jasarevic, Country Director of Hilfswerk Austria International for BiH, emphasised that thanks to the EU funding and the local co-funding eight Roma families in Banovici have significantly improved their lives.
"The key first step is done, from homelessness to being a tenant in a modern flat is an excellent starting point for a decent inclusive social living", Jasarevic said.
The project will significantly improve living conditions and socio-economic inclusion of 140 vulnerable Roma families in nine targeted municipalities. Two buildings in Banovici are part of ten buildings with 68 apartments that will be constructed for the Roma families within the Roma Action project.
The ROMA ACTION Project is financed by the European Union in the amount of 2,5 million Euro and co-funded by local authorities in the amount of 327 227 Euro. The Project is implemented by Hilfswerk Austria International, in partnership with Arbeiter-Samariter-Bund Deutschland e.V (ASB) and Kali Sara – RIC Association./IBNA