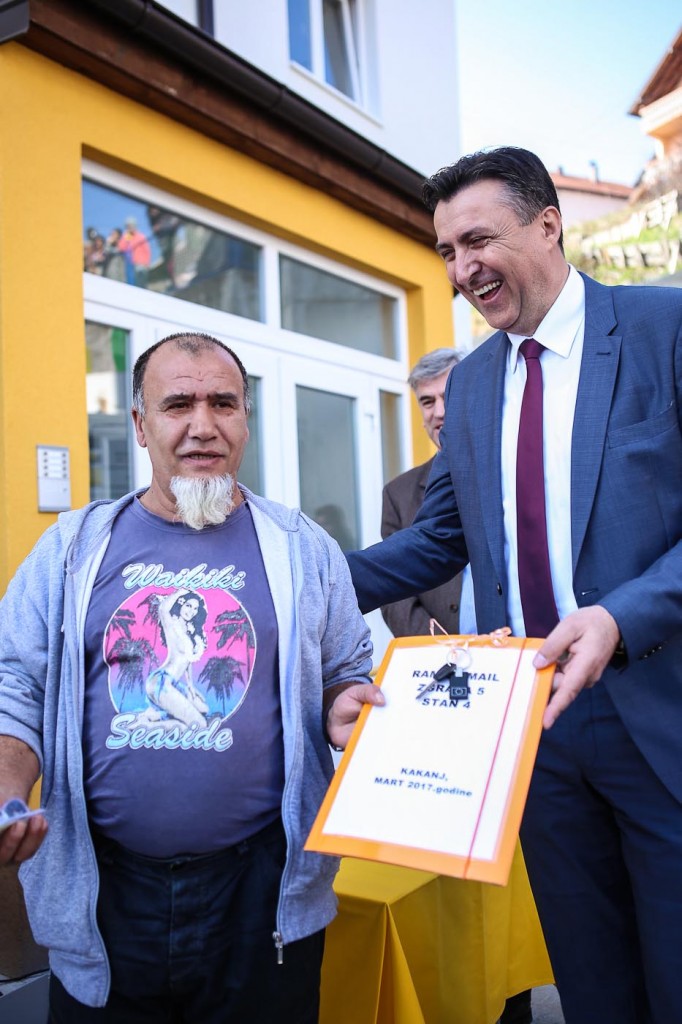 Eight Roma families from Varda settlement, near city of Kakanj in Central Bosnia, received a few days ago the keys of housing units builded within the EU-funded project "Roma Action II".
As it was announced from EU Delegation in BiH, the project aims at supporting the implementation of the revised Roma Action Plans in BiH 2013-2016 by improving living conditions and social inclusion of the marginalised Roma population with a proactive involvement of the local authorities at all levels and other local stakeholders.
Head of Operations Section for Social Development, Civil Society and Cross Border Co-operation at the EU Delegation to BiH, Massimo Mina, commended at the ceremony the successful and efficient completion of the housing units.
"Seven months ago we were laying the foundation stone at this location, and it is my great pleasure to be here and see these concrete results, the new homes for Roma families as well as the new access road and the children playground", Mina said.
He stressed the importance of Roma inclusion in the society and added that the housing issue is one of the greatest priorities, for this population.
Mina also said that it is necessary to take other measures in order to improve the situation of the Roma population, including education, health protection and employment which this Roma Action project addresses through its integrated approach.
Mayor of Kakanj, Nermin Mandra, used the opportunity to commend all the efforts made during the project together with the understanding of the donors.
"A few years ago, we adopted the Regulatory Plan for Varda settlement, but without the generous assistance of BiH institutions and the European Union this all would be useless. Thanks to the donors, we are marking a significant milestone today and Kakanj municipality will continue working on improving living conditions of Roma people", Mayor Mandra concluded.
One of the beneficiaries, Jasmin Alimanovic, together with his family, received the keys of their new home, not hiding his delight.
"Since 2014, my family has been waiting to resolve our housing issue. As from today, we will finally have a decent home", Alimanovic said.
The ceremony was also attended by representatives of the BiH Ministry of Human Rights and Refugees and the Federal Ministry of Displaced Persons and Refugees, as well as representatives of Arbeiter Samariter Bund, Hilfswerk Austria International, the OSCE and the Kali Sara Association.
According to announcement, in the second phase of this project, 140 housing units will be (re)constructed in 9  municipalities/cities across BiH. The EU provided 2.5 million Euro for the second phase of the project and the local authorities in beneficiary municipalities are co-funding it in the amount of 327 227 Euro. The project is implemented by Hilfswerk Austria International (HWA) in cooperation with Arbeiter Samariter Bund (ASB) and the BiH Association Kali Sara – Roma Information Centre./IBNA