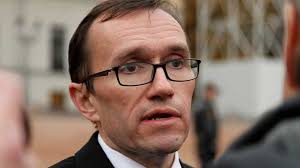 Review Hari Stefanatos
Back at the negotiating table provides the "Plan A`" said the Special Adviser to the UN Secretary General on Cyprus Espen Barth Eide, and expressed the hope that it will happen within a reasonable timeframe.
As is transmitted from the turkish occupied part, speaking after his meeting with Turkish Cypriot leader, Derviş Eroğlu, in the occupied, Eida reiterated that his proposal was not accepted with much enthusiasm from both sides, adding that he respects it and understands.
He also said that it is not in the terms of his instuctions the effort to persuade the parties to talk and added that the two leaders welcome the efforts made in this direction.
"The UN has no enforcement mechanisms to draw anyone in a meeting", said the Norwegian official. He added that listens to the ideas of the two sides on how to return to a state that allows the dialogue between them, and said that the work for the prepare for the negotiations will continue, although, as he said, no one knows exactly when they will resume. It's not jyst when they will return to the negotiating table, but also what they will do once they return", he said.
Asked if there is a possibility to resume talks before the "elections" in the occupied territories in April, the Special Adviser answered positively, but said that he is able to say that such an agreement exists. He added that the understanding that exists on both sides is that everyone should do something to create the conditions for a return to talks. "This point will serve as a test for the willingness of both sides to make the necessary concessions for mutual benefit, which is the resolution", he said. To be willing, all sides should give something he said and added that he seeks to find what this is. Moreover, he said that no more time should be wasted and that he remains optimistic. Eide also said that the is not wasting time thinking his disappointed, but it would be better for the Cypriots if he was at a more constructive phase.
Reported he referred to his meetings with the parties, saying that he intends to meet with all of them, and spoke about the importance of the greater involvement of society in the resolution process