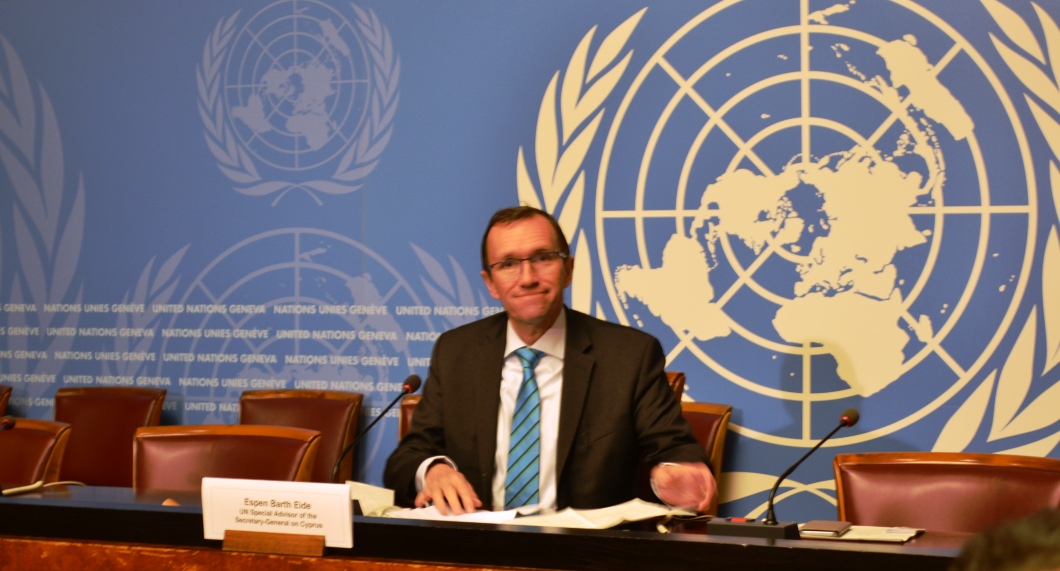 The process for a Cyprus settlement which ended in Crans-Montana can be resurrected but this will not happen by the UN but through an agreement by the sides, UNSG`s Special Adviser on Cyprus said on Thursday after a farewell meeting he had with Cyprus President Nicos Anastasiades.
Asked if the UN believe that  the negotiating process which ended in Crans-Montana is dead or can be extended, Eide said that the process that led in Crans-Montana ended in Crans-Montana, and that was what the SG said but that doesn`t mean that it cannot be resurrected.
"What I am saying and I think the leaders agree with – I am not speaking on their behalf but it is my sense that it is a shared understanding – that it will not be resurrected by the UN. The resurrection will have to happen from here in harmony and through agreement by the sides. and if they agree the SG is there," he noted.
Asked if it is difficult now to have a new process or a new attempt, Eide said that "you should not give up hope. On the other hand, I cannot with confidence say that I think it is just around the corner. We are here to help. We will always be available and the SG has said that he remains available if the sides want it."
"We are not planning an initiative. I think that`s natural. We had Crans-Montana. We believe that we did what we would to facilitate this process but if there is a shared, joint request by the sides and by the guarantors, the UN of course – it is part of its mandate – would be available to help. But the decision has to be made here," he noted, adding that the international community now needs to be convinced that there is a real intent to try again.
He said that if ever a new chance comes along in the future, it would be good to preserve as much as possible the Guterres framework which is the outcome of months of preparation. "If we were able to answer those six questions at the same time, simultaneously, I think we would have a strategic deal. But I don`t think you should give up with the idea," he said.
Eide said that this was his last meeting in this format with Anastasiades. He noted that they had a good, friendly conversation about their shared experience in this process.
He said he has mixed feelings about leaving Cyprus. "I think we achieved a lot in this process and I think that Mr. Anastasiades and Mr. Akinci with our help and with all the international support and the support from people here in Cyprus managed to bring this process further than any pair of leaders before them," Eide noted.
At the same time, he added, "we cannot hide the fact that we did not succeed in solving the problem. I would rather leave after having assisted the leaders in actually achieving a settlement that could be implemented."
He noted that these are large and complicated issues and that what`s left of this phase is a better understanding of where an agreement could be found, if ever there will be a new attempt and if somebody would try again, I hope that the achievements that have been achieved over these past years, particularly the past 27 months which is the time that the Anastasiades-Akinci talks started in May 2015 till Crans-Montana and the conclusion of the Conference on Cyprus.
"We want to record all these and we will make sure in the report that I will submit – I will work with the SG and then he will submit it to be more formal to the SC. We will take down all that we can say of course respecting the boundaries of the sides. We will try to record all that was achieved and also where we think we could have been going so that the work has not been lost," the diplomat said.
Eide refrained from responding to a question about the Turkish stance during the last dinner in Crans-Montana, noting that things have been said about that and he does not think it would contribute to anything to continue that now.
He said that his focus now is to finalise his job here with the reports to the SC, noting that they will make a public report and their own internal lesson learned.
Asked about his message for the Cypriots, he said that Cyprus is a great country with a rich culture and with the benefit of having the potential of being a united country with several rich cultures coinciding.
He expressed the conviction that Cyprus would be better off united. "I think you would be stronger together, I think you will be richer together, economically but also culturally, you will be safer together," he noted.
He stressed that it is up to the Cypriots, who "need  to take their faith in their own hands. We cannot do it for them. We are not asked to do it for them. We are asked to be here and be helpful as facilitators but at the end of the day it is up to the Cypriots and the leaders of course like Mr. Anastasiades and Mr. Akinci", noting also the role of the society.
If people want change, they need to stand up for change, he stressed, noting that this is not the only legitimate view and that it is not illegitimate to think that things are better as they are, but he disagrees with this.
He said that he has been strengthened in his conviction that a united federal Cyprus is the best option for all the people in Cyprus.
Referring to his cooperation with the leaders, the negotiators and their negotiating teams, Eide said that the fact that they sometimes disagree on certain issues is normal, because you cannot expect an envoy to be constantly in full agreement with both sides if they are in disagreement with each other.
"Overall we have developed a high degree of respect for each other. I think I have learned to understand at least some of the particular sensitivities that comes with being a Cypriot, Turkish Cypriot or Greek Cypriot, and things that might easy from the outside are less easy when you see it from the inside. And I say that with empathy and understanding", he noted.
Eide also said that when Cypriots discuss the future it is relatively easy to discuss future arrangements, when they discuss the present it becomes a little bit more difficult and when they try to agree on the past it is absolutely impossible.
He brought as an example the settlement of property issues, "where you have strong personal memories of loss on both sides" and the past comes back into the present .
He also said that everyone should be critical of their own efforts and that "one thing we could collectively collect upon, that means the UN and the sides and everybody involved, is that maybe this process was too secretive".
Eide said that given that it took quite some time, maybe it would be better with hindsight to have some more transparency and some more sharing of what was actually happening.
The fact that even though a lot of progress was made, they were unable to say what that progress was made people, understandably, suspicious, he explained. It also made it easier for those people who have the conviction that there should not be a solution to tear it apart and take it down, he added.
Eide said that you either have a short, quick and effective secret process or you have a long and more transparent process.
The Norwegian diplomat said that some more involvement by the broader society would have been helpful, noting that civil society came on the stage relatively late. He noted that he knows many-many people on the economic side, business leaders, trade union leaders who were determined to help for a settlement but who didn`t want to raise their voice.
Eide noted that more work could have been done to prepare the people for the reality that a solution will not be absolutely perfect from either side. "A solution entails an element of compromise. You have to accommodate and meet each other," he said.
Asked if it was a mistake that the security issue was left to be discussed at the end of the process, Eide noted that they were engaging with it for years in a brainstorming format and in a shuttling format.
He said that there was a concept available for a fundamental change in the 1960 system, a fundamental change in the system of guarantees, an end of the right of intervention, a massive reduction of troops but also that would entail a security structure which with some foreign involvement, UN, EU and others, that would be helpful in alleviating the fears of both communities./IBNA
Source: CNA