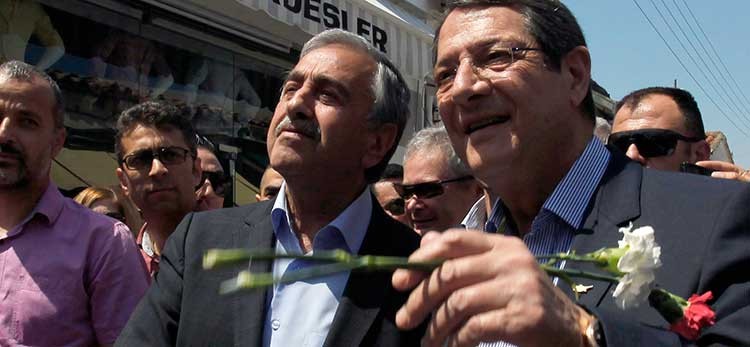 Nicosia, June 17, 2015/ Independent Balkan News Agency
By Kyriacou Kyriacou
Cyprus President Nicos Anastasiades and Turkish Cypriot leader Mustafa Akinci hold on Wednesday their third meeting, in the framework of UN-led talks aiming to solve the problem of Cyprus, divided since the Turkish invasion of the island in 1974.
Their meeting, in Nicosia UN Protected Area, began at 1015 local time. The two leaders were welcomed by the UNSG`s Special Adviser on Cyprus Espen Barth Eide and the UNSG`s Special Representative in Cyprus Lisa Buttenheim.
President Anstasiades arrived at the venue accompanied by the Director of his Diplomatic Office Nikos Christodoulides, negotiator Andreas Mavroyiannis and members of the Greek Cypriot negotiating team.
Akinci was accompanied by negotiator Ozdil Nami and members of the Turkish Cypriot negotiating  team.
UN Secretary General's Special Adviser on Cyprus Espen Barth Eide has said that the stars are perfectly well aligned on Cyprus and in the neighborhood for a solution, something, which, as he said, has not been seen in a long time.
Addressing a public event hosted by the Stelios Philanthropic Foundation in the walled city of Nicosia, on Tuesday evening, Eide spoke of the difficulties referenda present and of the implementation of a solution.
However he struck an optimistic note, telling everyone that the two leaders trust each other and are ready to work hard to deliver an outcome expressing the point of view that there is a "very real possibility" that within reasonable time there will be a political settlement."