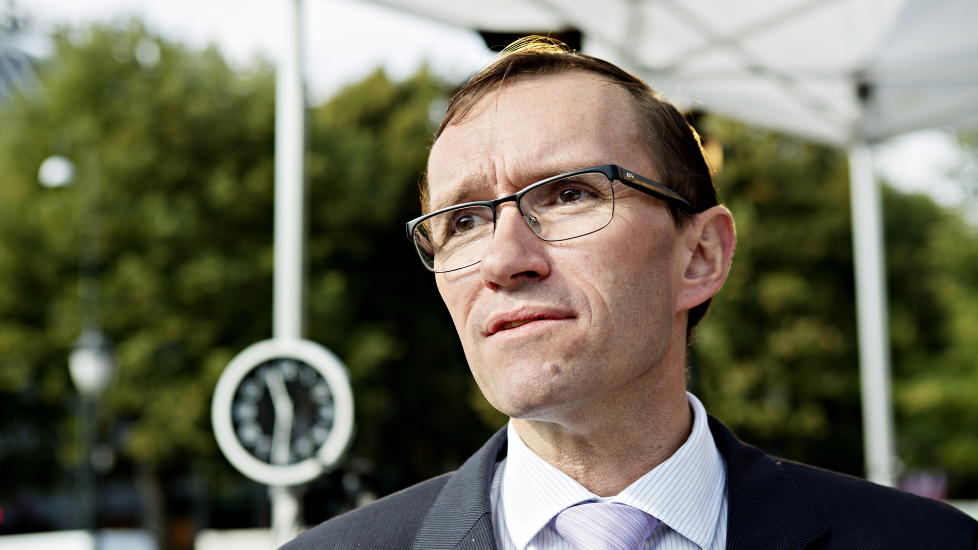 It is a real possibility that 2017 will be the year when the Cypriots, themselves, freely decide to turn the page of history, Special Adviser of the Secretary-General on Cyprus, Espen Barth Eide has stressed, in his message for the new year which was published on UN Cyprus accounts on social media.
In his message Eide says that "it is important to remember that it is the people who will make the final decision, once the leaders have done their job".
Building lasting peace, he underlines, means understanding the fundamental concerns of all peoples in a spirt of reconciliation, respect and recognition. "The communities in Cyprus are fortunate to have two such leaders, Mr. Anastasiades and Mr. Akinci, both of whom are demonstrating the political will and strategic leadership to end a conflict that has divided their common homeland for way too long", he said.
The UN Envoy referred to a recent statement by former UNSG, Ban Ki-moon that "Cyprus is one of the few areas to offer tremendous hope in 2017" as well as to a statement by the new Secretary-General, Antonio Gutteres who also reminded in his inaugural address that "In the end, it comes down to values. We want the world our children to inherit to be defined by the values enshrined in the UN charter; peace, justice, respect for human rights, tolerance and solidarity. The threats to these values are most often based on fear. Our duty to the peoples we serve is to work together to move from fear of each other, to trust in each other."
"As the leaders prepare for their meetings in Geneva the coming weeks will be crucial in securing a comprehensive solution", Eide pointed out. He added that the leaders have their sights set on a future where all citizens of a united Cyprus can co-exist in peace with each other and their neighbours. 'They recognise that the status quo is unacceptable and unsustainable, and that the current talks offer the best opportunity for a solution", UN Envoy further said.
This time the talks are leader-led, Eide has stressed. "Every letter, word and sentence will have been written by Cypriots themselves. The UN remains loyal to facilitating their efforts to achieve their shared vision of a united federal Cyprus, while maintaining that the future of the island will be determined by Cypriots, for all Cypriots", he added.
According to Eide, the peaceful reunification of the island next year, could offer a historic opportunity to finally turn the page of history in Cyprus. "Both sides recognise that any settlement must respect EU values and principles, ensuring that the fundamental rights and freedoms of all Cypriots are protected", he said.
"The leaders are discussing a new model fit for the 21st century that prioritises economic growth and development" adding that support from the international community remains resolute. "The United Nations and I personally are committed to facilitating both sides to reach a comprehensive agreement and to implement a solution. Our assistance aims to ensure that implementation of a settlement is as smooth as possible and maximises peace dividends for all", he said.
"Across the island, I am encouraged by my meetings with young and old Cypriots, civil society activists, business leaders, religious leaders and so many others who are all helping to shape the course of Cyprus' future", UN Envoy has stressed, adding that their voice in support of a solution, is getting louder and demonstrates the strong desire for peace amongst Cypriots.
Cyprus has been divided since 1974, when Turkish troops invaded and occupied its northern third. Cyprus President Nicos Anastasiades and Turkish Cypriot leader Mustafa Akinci have been engaged in UN-backed talks since May 2015 with a view to reunite the island under a federal roof.
Anastasiades and Akinci have decided that the UN-sponsored talks will continue in Geneva, Switzerland. On 9-11 the two sides will discuss the remaining issues of the Cyprus problem and present maps concerning territorial adjustments, while on January 12 a conference on Cyprus will be convened with the participation of the guarantor powers as well as other relevant parties as needed./IBNA
Source: Cyprus News Agency