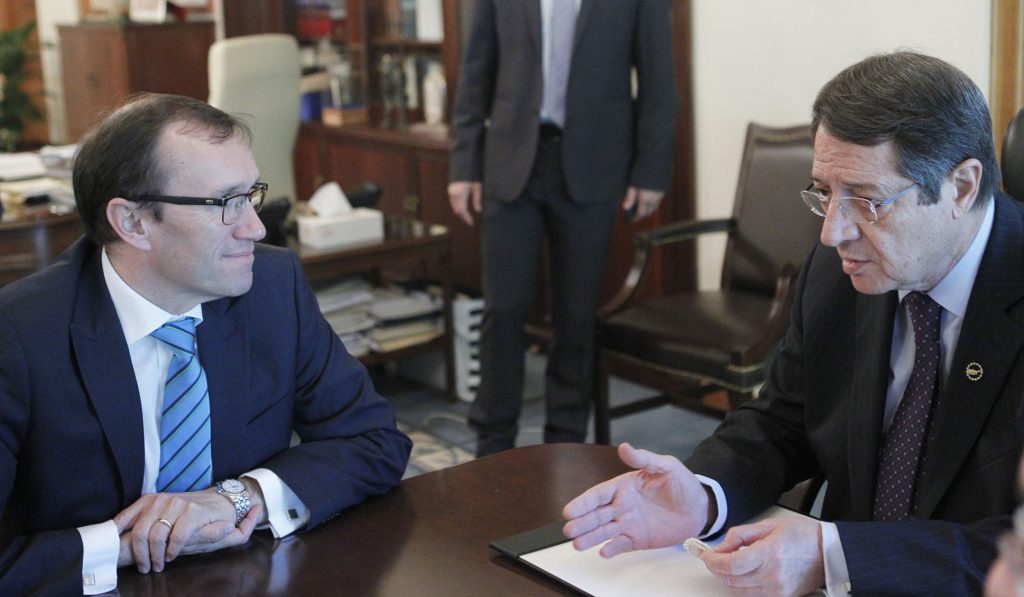 UN Secretary General`s Special Adviser on Cyprus, Espen Barth Eide, said on Wednesday that he has great expectations for the UN-led negotiations on the Cyprus problem that will take place in Mont Pelerin, Switzerland, on November 7-11.
In statements to the press after being received by Cyprus President Nicos Anastasiades, Eide said that he discussed with Anastasiades "the optimal way of orchestrating the issues that we want to deal with in Switzerland and make the best out of this opportunity. I have great expectations for the Mont Pelerin meeting but I also want to underline that it must in no way be understood that this is the end of the road."
If the meetings in Mont Pelerin are successful "we might agree that this means we can then move into the final stage", he added.
Eide noted that the Mont Pelerin negotiations are going to be a very important moment in the Cyprus talks because it is the first time since Anastasiades and Turkish Cypriot leader Mustafa Akinci started to negotiate, that they move the talks outside of Cyprus.
He said the good news about Mont Pelerin is that both sides are now ready to open chapters that have not been on the table yet, including the crucial important chapter of territory.
The issue of territory, he noted, obviously has to be discussed in the natural context with the other chapters that pertain to territory and other outstanding issues.
"So we have five full days, from Monday morning till the end of Friday, and we will be together there all the time and that provides for formal negotiations but also informal meetings and we can have parallel meetings where different people discuss different parts of the agenda," he said.
He noted that according to his experience "when we get leaders and negotiating teams together in such a setting, things can happen that is difficult to do within the confined maybe four hours in the buffer zone, when both leaders have a lot of other things to attend to that same evening or before they come."
Eide said that one of his hopes is that they will be able to focus on those issues that are best done in such a format and leave those subjects that they might as well do in Cyprus for later.
Invited to say if it is possible to see something like a give and take process between different chapters in Switzerland, the UN diplomat said he would not use the give and take phrase, adding that "we are seeing how all these talks are interdependent and issues are related, and the only meaningful way of solving the Cyprus problem is to see that things are related."
Citing an example, he referred to the link between property and territory, adding that "of course without a broader understanding of the security context, in the end there is no deal. So, you can simply not just isolate the chapter and say now we will only talk about that." Referring to another example, he said that the economy chapter, which is largely done, is related to governance issues.
Asked what he meant when he said that we are now closer to a deal than ever before, given the fact that 12 years ago there was a finalised solution plan that went to a referendum, Eide said that the big difference is that the Annan plan was written by Alvaro De Soto (who was then the UNSG`s Special Adviser on Cyprus) and his team and in a sense proposed to the Cypriots to vote on.
"What I have said since my very first day here and probably on this particular platform is that we are not printing a single paragraph or sentence into this, so the two sides in Cyprus have never been so far ahead in discussions that they have led themselves," Eide explained.
Invited to define the next step if the negotiations in Mont Pelerin are successful, the UN diplomat said that "what is absolutely certain is that regardless of Mont Pelerin, we will come back to Cyprus and continue. But the more successful they are, the sooner can we go into the very final issues and I think everybody knows what they are," he concluded.
Cyprus has been divided since 1974, when Turkish troops invaded and occupied 37% of its territory. Anastasiades and Akinci have been engaged in UN-led talks since May last year, with a view to reunite the island under a federal roof./IBNA
Source: Cyprus News Agency