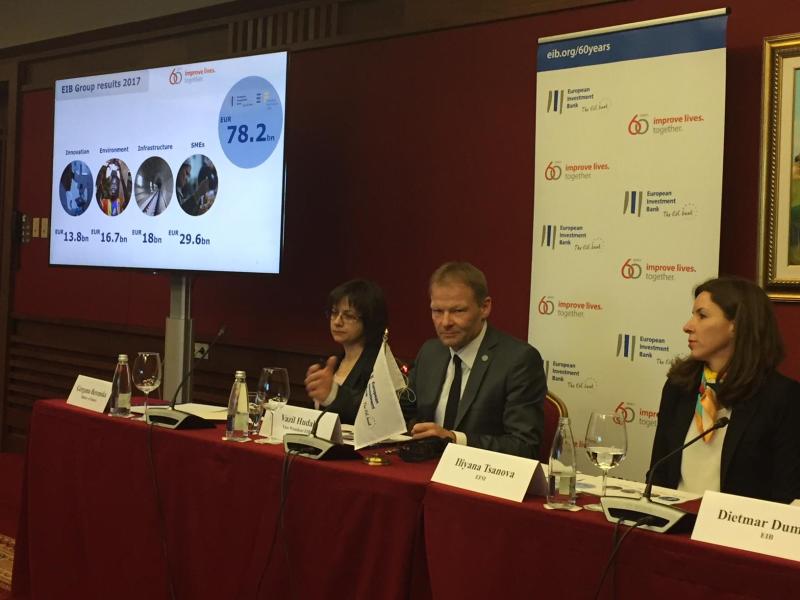 The European Investment Bank has extended 299 million euro in loans and guarantees to Bulgarian corporate entities in 2017, the bank said March 9. Of that sum, 250 million euro was lent directly and a further 49 million euro was provided to facilitate the investments of small businesses to support their growth and competitiveness.
The bank, which is owned by EU member states and uses their deposits to fund loans within and outside the bloc, has been operating in Bulgaria since 1992, and its lending commitment to the country in that period was 5.1 billion euro.
The largest loan in 2017 was 100 million euro to Biovet, a subsidiary of the pharmaceutical company Huvepharma, to finance planned increase of production capacity, as well as research and development activities in the area of animal health.
Other loan recipients included French aviation systems manufacturer Latecoere (55 million euro for innovation and capacity expansion), Bulgaria's leading sunflower oil producer and grain trader Oliva (31 million euro to finance the construction of a new production plant, storage and logistics facilities), Raiffeisen Leasing Bulgaria (30 million euro for a credit line aimed at small and medium-sized enterprises) and Sofia Municipality (56 million euro for the construction of the first stage of Sofia Metro line 3.)
"For a quarter of a century, the EIB has assisted Bulgaria with reducing regional disparities and increasing competitiveness by financing critical infrastructure and small and medium-sized enterprises. Last year, we reached out to private corporates directly for the first time, and the pipeline for this year is just as promising," EIB vice-president Vazil Hudák said in a statement.
The EIB Group was also committed to supporting the priorities of Bulgaria's EU Council Presidency, such as the development of transport corridors and the digitalisation of the region, the lender said.
It has approved loans worth eight billion euro in the region over the past 10 years and planned to lend a further 700 million euro in 2018 for projects to improve infrastructure and boost transport links between Western Balkans countries, Hudák said, as quoted by Reuters./IBNA
(Photo: EIB)