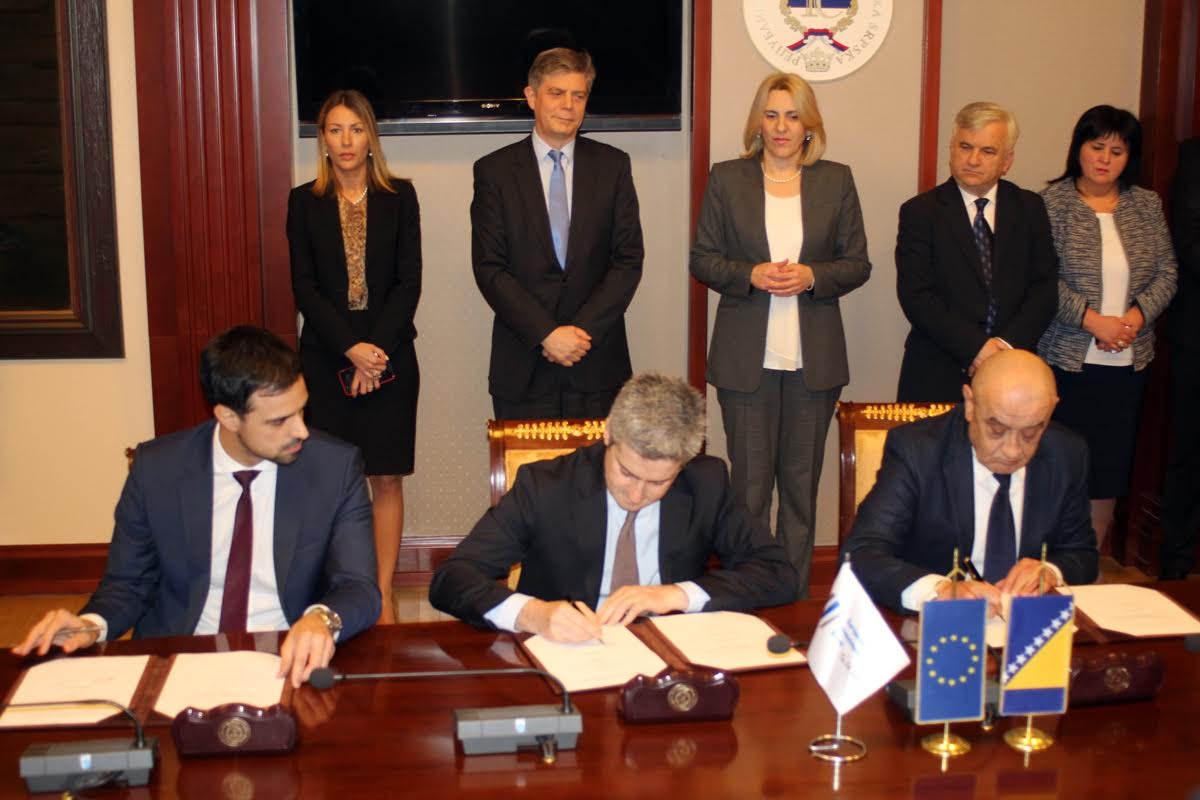 There is a highway in BiH which leads straight to the meadow, not far from river Sava, near Gradiška. On the other side of the water is Croatia and in the last decade, the highway has been waiting for the bridge, the border crossing and the link with the Zagreb – Belgrade highway.
The construction of the border crossing will help the Gradiška citizens immensely, since the present traumatic traffic jam in the city's centre will be something they will be able to forget at last. The large  number of cars, busses and trucks that queue for hours in order to enter into the European Union will have a much easier and 'painless' access-entrance to it.
The European Investment Bank (EIB) recognised the problem and decided to grant 6,8 million euros for the bridge, at the same time modernising the large-capacity border crossing. If the joint BiH-Croatia commission reaches the agreement on the international tender for the construction of this project in a short period of time, it is possible that the first cars will cross it in three years from now. Minister of Finance and Treasury of BiH, Vjekoslav Bevanda, underlined that it is a 50-50 project between Croatia and BiH, adding the important aid of this new grant in the resolution of a long-standing problem.
The contract on the grant was signed on Tuesday, in Banja Luka. Head of EU Delegation to BiH and EU Special Representative in BiH, Lars Gunnar Wigemark, referred to a good day for BiH and the EU.
"The construction of the bridge in Gradiška, as a long-standing promise, finally begins. I am very pleased that the EU will give almost seven million Euros for this project. Citizens will have the multiple benefits of this project, including the fact that cross-border traffic will no longer have to take place through the center of Gradiška," Wigemark said.
He added that this project also means about 300 new jobs. Wigemark hopes that this will be one of most important border crossings and emphasized that the projected traffic at it, ten years after its opening is 28 000 vehicles daily.
Mateo Rivelini, Head of the Credit Department of the EIB for Slovenia, Croatia and the Western Balkans, pointed out that the EIB is proud to contribute to the construction of so important a project in BiH.
"The Bank remains committed to providing funds for the construction of road infrastructure in this region, as a financial partner of the authorities in BiH," Rivelini said.
RS Prime Minister Željka Cvijanović mentioned that the issue had been the focus of talks with a number of Croatian governments for at least 14 years. No, solution had been reached earlier due to "certain congestions".
"We entered the final phase. The representatives of Republika Srpska, BiH and Croatia will harmonise the tender documentation, and after finishing the financial construction and Croatia's issue with the building permit, we will be able to move on with the international tender", Cvijanović said…../IBNA