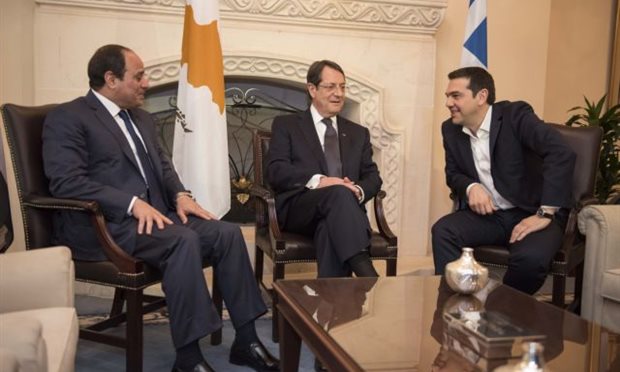 The 5th Trilateral Summit of Greece, Cyprus and Egypt that will be held in Nicosia, on Tuesday, 21 November, highlights the importance of Egypt for the Eastern Mediterranean and the Arab world.
The cooperation of the three countries tends to form a pole of stability for security and cooperation in the Middle East region which is under strain. For both Greece and Cyprus, the stability of Egypt is a priority and this is the exact direction the EU is working towards.
The 5th Trilateral Summit, as well as the separate bilateral co-operations between Greece, Cyprus and Egypt, demonstrate the upgrading and deepening of the ties among the three countries, while a new real-time framework of cooperation is being developed, as the talks are attended by not only by the leaders but by the competent ministers too. This way, the issues discussed are analyzed and immediate decisions are made, avoiding the lengthy procedures of successive meetings.
Egypt is of significant importance in the wider region. Traditionally, it is a leading force in the Arab world, and despite its weakening in recent years because of the multiple changes of governments, it remains strongly associated with the Arab world. This could work positively for tensions in Libya and Syria, as well as in Lebanon, where there is fresh turmoil. All of the above will be discussed among the three top officials.
Egypt's strategic position works as a dyke that prevents refugee flows from entering the already burdened countries of Africa. Possible instability of the country creates the risk for an uncontrolled wave of refugees to Europe.
The energy upgrading of the Southeastern Mediterranean region also enhances the position of countries that have the potential to play a key role in (dealing with) the energy reserves of Europe and the wider region.
The upgraded relations between Greece and Egypt form a new picture in the wider region. The joint military exercises of the two countries, the demarcation of maritime borders and this of the exclusive economic zones (EEZ), the development of multilevel economic relations deepen ties even more.
According to IBNA sources, Greece, Cyprus and Egypt will sign an agreement on cooperation in cruise tourism, in Nicosia. Talks among Greece and Egypt there will be particularly focused on speeding up the implementation of the agreed decisions, as there is some kind of obstruction in their implementation…/IBNA
Photo (Library)