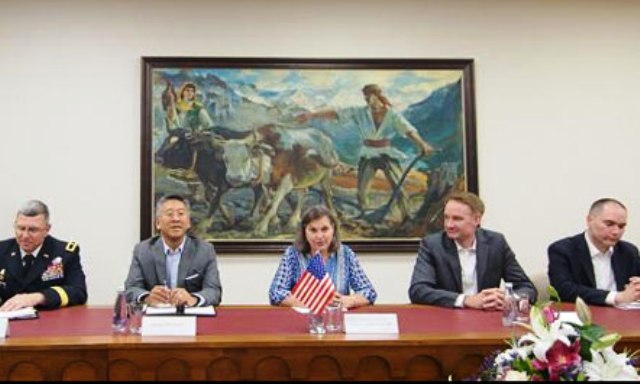 Tirana, 11 July 2016/Independent Balkan News Agency
By Edison Kurani
U.S. Assistant Secretary of State for European and Eurasian Affairs, Victoria Nuland has held talks in Tirana with the heads of the government and the opposition, in an effort to convince the sides to vote the package of constitutional changes and new laws of what is called the reform in justice.
Mrs. Nuland said that ""that this is another defining moment for Albanian democracy".
She noted that  "the justice reform that the parliament is working on, and that government and opposition negotiators are working on, is vitally important for the health and the democratic strength of this country" and added:
"It will make an essential contribution to ending the culture of impunity and ensuring that Albania has a justice system that truly works for the people of this country".
USA-EU embassies, last proposal for Albania
U.S. Ambassador Donald Lu and his EU counterpart, in the last 24 hours, have put forward a new proposal, which endeavors to bridge the distance.
This is a proposal, which takes elements from government ideas and elements from opposition ideas and is fully compliant with Venice Commission recommendations.
Mrs. Nuland offers more details:
"This is a hybrid proposal that takes ideas that we have heard both from the government and from the opposition and it endeavors to bridge the gap. It is based on the very good, active listening that Ambassador Lu and his EU counterpart have been doing and it attempts to combine an appropriate level of international monitoring with a strong defense of Albanian sovereignty".
Nuland says that this proposal has her support, more importantly, it has the broad support of Washington and of our leadership.
Meanwhile, she says that she discussed this proposal in the meetings that he had on Sunday (10.07) with Prime Minister Edi Rama and leader of opposition, Lulzim Basha.
"I urged both of them, on behalf of Washington and on behalf of our colleagues in the EU, to try to join around this proposal in the coming days, because it is time to reach agreement – the Albanian people are waiting. It's a moment for all of Albania's patriots to join forces and deliver for the people of this country what they deserve".
"And with strong justice reform, – Mrs. Nuland added – Albania can move forward on other things that are also important to your citizens and important in our relationship, including strengthening the economy, bringing jobs, bringing investment".
Skepticism in front of optimism
Until Albanians see compromise between Rama and Basha, they are also right about being skeptical, for the simple fact that it has been over two years that this reform is being dragged on. What's more, it is well known that both the left wing and the right wing of Albanian politics are very tough on each other and very little interested on the problems of the people.
In spite of the delays of the reform and the short time remaining, until July 21 when parliament will hold its plenary session, Mrs. Nuland is optimistic that consensus will be reached on the reform in justice.
"Time is short, which is why we are urging everybody to work very hard and we are doing our best to try to join the good ideas from both sides. I am an American; I am an optimist by nature, of course. And as you know, I work for the "Yes, We Can" President. So, again, we say to all Albanian patriots, and particularly, to the politicians, "You serve the people; let's get to Yes, We Can!"
But did Mrs. Nuland hear from Lulzim Basha and Edi Rama the response  "Yes, we can do it" and "Yes, we will do it?" Mrs. Nuland says: "I can honestly say that in both my meeting with the Prime Minister and my meeting with the leader of the opposition, they both expressed the desire to come to an agreement to be together, and to present solid justice reform. It is not a secret to you all that politics is rough in this country, but I felt that they both know that it is a moment for leadership".
Rama and Basha lower their tones following the meetings with Nuland
A few hours before coming to Tirana, in their public declarations, Rama and Basha were resolved in their stances, saying that they would not accept each other's proposals. After their meetings with Nuland, their tones were lowered and this is seen in their recent declarations.
Prime Minister Rama said after the meeting that "the governing majority will remain until the last day open for any compromise which doesn't threaten the reform and at the same time, is considered by USA and EU in full compliance with the joint objective for a justice system which is a decent one for an EU member country".
Meanwhile, the democrat leader, Basha, said: "We are convinced that this reform can and must only be approved through political consensus. There is not and there cannot be any other healthy foundation for the reform in justice, besides political consensus between the sides".
***
Around 91% of Albanians are asking for judicial reform now.
It's also an essential step for Albania being able to take the next step in its accession talks with the European Union and the path to the EU.  /balkaneu.com/