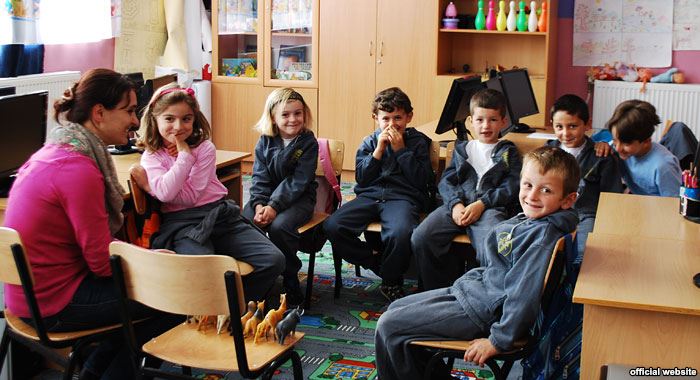 Skopje, April 4, 2014/Independent Balkan News Agency
By Naser Pajaziti
Different activities are taking place in several schools in the former Yugoslav Republic of Macedonia in order to bring students of different ethnic groups closer to each other.
This project has been supported by the USAID and also several schools, NGOs and other institutions. Its aim is to achieve a multi-ethnic integration in the educational system.
But, the project has also been supported in multi-ethnic areas.
The initiators of this project say that the scope is to bring ethnic communities closer and to achieve cross ethnic integration.
Ardijana, an Albanian and Magda, a Macedonian, are a good example promoted in all the media of the country, about the fact that they are good friends, and before the project, they didn't even know each other, although they lived in the same neighborhood and went to the same school.
The two girls say that they are good friends and that now they spend a lot of time with each other. They also said that this has been achieved thanks to USAID.
"We became part of this incentive for an integrated education. Now we're amazed by the fact that we have so many things in common. We discuss all sorts of things and we may freely express ourselves on all matters. I have learnt a lot on the people that are around me and which I have not known before", says Ardijana. The same thing is also confirmed by Magda. She says that she's very happy about this project and appeals for it to be implemented in all multi-ethnic schools and environments in FYR Macedonia.
USAID says that the project will last until 2015.
"More than 250 students of different communities have strengthened their relations. It's a fact that students of different communities do not blend with each other and direct contact between them was lacking, but we changed this", says Nebojska Mojsovski, head of the USAID project for multi-ethnic integration.
Prof. Bashkim Qerimi told IBNA that such projects are welcome and must be supported. "Such projects are necessary even in Kumanovo, where there's a multi-ethnic environment and segregation in schools. We have now realized that these projects must continue", said Qerimi.
Several years ago, the government had approved the project "Steps toward an integrated educational system", which was a strategy for integrated education. But this project has been hard to be implemented in schools.
The government spokesman, Muhamet Hoxha told IBNA that there have been positive changes and that all prejudices to have an integrated educational system must be overcome. "In this strategic project, there are points which consist on the  improvement of multi-ethnic integration in schools, but there's also room for improvement", says Hoxha.
But, this project has come to a halt, because schools that taught in the Albanian language had not accepted for Albanian students to learn Macedonian language since the first grade. This request has not been accepted so far and has been refused by Albanian schools, in spite of the intervention and support by OSCE. /ibna/