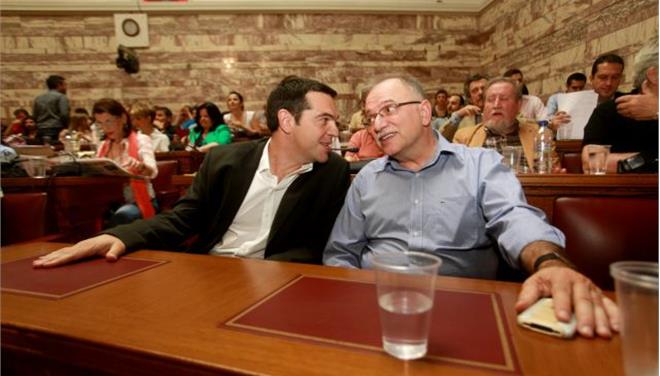 Athens, May 18, 2015/ Independent Balkan News Agency
By Spiros Sideris
With overt and secret meetings the government team is trying to soften the reactions expressed within Syriza and emerged in the recent meeting of the Political Secretariat of the party.
Both the Prime Minister and his close collaborators are investigating the intentions within the parliamentary group and the Political Secretariat, so that when the agreement will come to Parliament it be ensured that there are no leaks. On Saturday afternoon the door of Maximos Mansion passed the Syriza MEP, Dimitris Papadimoulis and chairman of the House, Zoe Konstantopoulou.
Immediately after the meeting, Papadimoulis said: "I was informed in detail by the Prime Minister and we exchanged views. The framework of objectives was described very clearly by the Prime Minister last night in his speech. There is optimism that we will come to a good agreement and of course this will be supported by Syriza and our parliamentary group, including I believe, by the vast majority of the Greek people".
Asked if the adoption of the Agreement will have the form of a vote of confidence to the government, he said: "At the moment it is important to achieve the best deal possible and soon. Everything else will be judged on time and will be announced by the prime minister".
Speaking to the Journal of Journalists, State Minister Nikos Pappas, outlined the position of government saying: "Different opinions are expressed. But the responsibility we all have is of historic proportions. And we will be judged not by what we say in TV studios, but from what we do in the Parliament. From our actions and not from impressions and the hunting of impressions".
On his part, Finance Minister Yanis Varoufakis, speaking to Skai Television, estimated that the agreement will pass and said: "What we will agree on are sure to pass for the simple reason that we ourselves do not want to pass measures which will contradict the view of the party for an exit from the crisis".
In the coming days, depending on how consultations with partners will go, it is possible for the Political Secretariat and the Parliamentary Group of Syriza to convene.