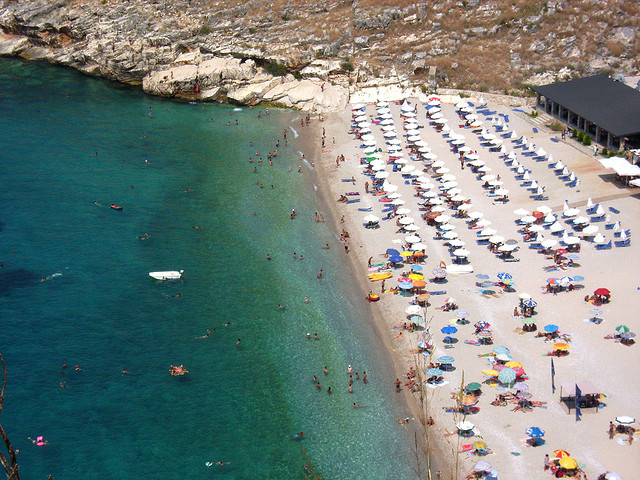 Analysis/Albanian authorities say that they're working hard to boost tourism in Albania and turn it into one of the most lucrative sectors. Minister of Economy and Tourism, Arben Ahmetaj analyzes the current situation of tourism and the efforts being made to transform it
Tirana, 22 May 2015/Independent Balkan News Agency
Tourism is a strategic sector and the government seems to be well clear on this. Ahmetaj says that he's convinced that 2015 will be the best year for the sector of tourism and it will mark a turning point in this sector.
Tourist industry in Albania employs around 200 thousand people, but based on the statistics of job offices, these figures are much lower, because they are unregistered.
This seems to damage the state itself, but in fact, it also damages the industry and people who are employed, as they benefit no social and health securities and their years of work are not recognized.
Minister Ahmetaj says that the legal amendments that have been prepared, aim to offer tourism a new momentum with facilitating measures.
"One of the elements is to make available public grounds for construction companies, developers, resorts, hotels or accommodating facilities for a period of 99 years at a cost of 1 Euro".
To launch this process, the ministry chaired by Ahmetaj has started in the past three months to scan public properties in the territory of the country, mainly on the coast, in order to know what to make available for strategic investments in tourism.
Here, another facilitating measure for tourist businesses is offered. "With the new law, the state will supply the tourist business with the necessary infrastructure, roads, energy or water".
Currently, tourism only makes up for 4,6% of Gross Domestic Product, while in Croatia, it makes up for 20%.
The Albanian government says that this percentage must increase. Ahmetaj is careful in the figures that he suggests. "We think and believe that with what we're doing, the industry will make up for 6,5% of GDP in the years to come".
The challenge that Albanian tourism faces is the service. This year, the season has started in March, but tourist capacities are small. Thus, Gjirokastra has 1200 beds, which are spread throughout small tourist structures. Therefore, it's unable to receive large groups of tourists.
If we stop on Gjirokastra, 37% of tourists in the world are cultural tourists. They are interested to see the historical values of the cities that they visit.
In these circumstances, the increase of accommodation capacities is a priority. Minister Ahmetaj is aware of this situation and believes that the construction sector must now focus in this industry, by improving or building more accommodation facilities harmonized with agri-industry.
Another issue here is transport. The country cannot pretend to have large numbers of tourists and pretend quality if it doesn't have airports in other cities of the country. The Albanian government has realized this handicap, therefore it's negotiating to remove the exclusiveness of Rinas airport for international flights. Ahmetaj says that the airports of Vlora, Saranda and that of Kukes are expected to be opened. /ibna/