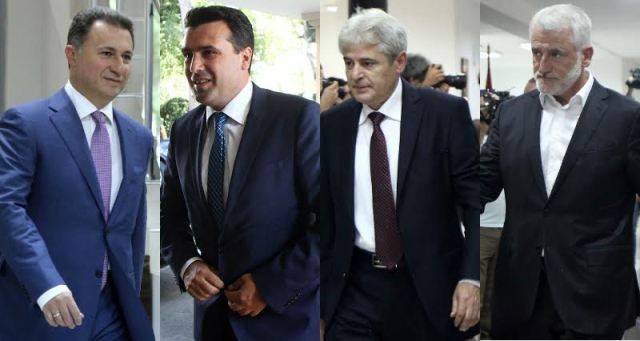 The largest opposition party SDSM (Macedonian Social Democratic Union) is expected to hold talks today with BDI (Democratic Union for Integration) for the creation of the government.
These two parties have launched talks yesterday, as SDSM has expressed its readiness to secure the necessary seats to form the government. Last week, president of the country, George Ivanov said that he will mandate that party leader who secures 61 seats to form the government.
"These meetings and discussions will continue. There will be discussions in both parties, but we think that both parties want Macedonia to solve this crisis and have a government as soon as possible", said the vice chair of SDSM, Radmila Sekerinska.
The vice chair of BDI, Teuta Arifi said that her party has a clear agenda to talk to other parties for the creation of the government.
"In the table of talks, we have our priorities that relate to the platform of the Albanian political parties and BDI's non-negotiable points: the making the Albanian language an official language throughout the entire territory of the country, deliver all the reforms in justice and integrate the country in the NATO and EU", Arifi declared.
The talks are being held on a level of parties' vice chairs, while last night, SDSM and BDI have discussed on the possibility of forming a coalition and the joint government agreement.
SDSM with 49 seats and BDI with 10 seats cannot form a government on their own. They also need another of the Albanian parties such as Besa Movement with 5 seats or Alliance for Albanians with 3 seats.
In an interview for IBNA, leader of Alliance for Albanians, Ziadin Sela declared that he would accept to be in a coalition with SDSM if this party accepts the platform signed by the Albanian parties, which makes Albanian an official language in the entire territory and other issues which relate to the advancement of the rights of Albanians in FYROM.
According to him, the agreement can only be signed if the laws are approved before the creation of the government.
While talks are being held in the country for the creation of the government, the EU Enlargement Commissioner, Johannes Hahn is expected to arrive in Skopje on Thursday.  Hahn is expected to meet with all the sides involved in the current situation. /balkaneu.com/