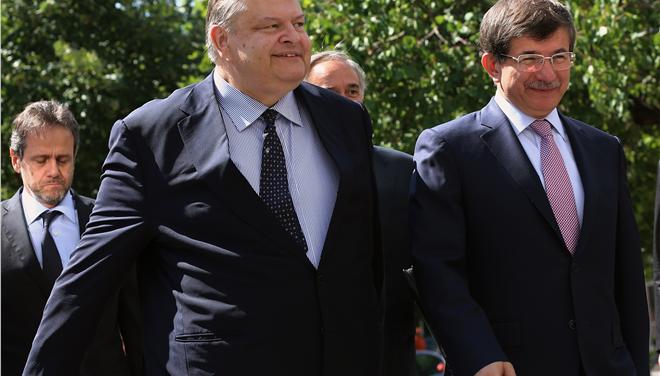 By Manolis Kostidis – Istanbul
Greece's and Turkey's Foreign Ministers held a meeting in Ankara today in which they discussed the issues of the EEZ and cooperation to do with TAP, amongst others.
The meeting lasted about two hours and the ministers also discussed the Cyprus issue, Greek-Turkish relations in the Aegean and the issues relating to the cooperation of the two countries on economic and energy issues such as the Trans-Adriatic pipeline.
Ahmet Davutoglu characterized the issue of Greece proclaiming an EEZ as a matter of dispute in the Aegean.
Asked for his opinion on the possibility of Greece proclaiming the EEZ, the Turkish minister said "there are bilateral talks on the issues of dispute in the Aegean. We want the Aegean to be a sea of peace and calmness. Instead of unilateral proclamations let's bolster cooperation. Just as TAP united Greece and Turkey, the same could happen through cooperation in the Aegean".
Greek FM Ev.Venizelos appeared satisfied with cooperation on the TAP and said the Trans-Adriatic Pipeline "changes the geographic fundamentals in the area and strengthens Europe in terms of energy resources".
On the EEZ issue, Mr. Venizelos stressed "all countries know the International Law of the Sea and protect their national sovereignty and sovereign rights. Everywhere in the world states discuss and negotiate in good faith to find internationally acceptable common ground".
This statement was considered to possibly open the possibility of Greece and Turkey holding talks over the EEZ in future.
Ankara disagrees with Greek positions and maintains Kastelorizo is not entitled to a continental shelf big enough to exclude Turkey from the Mediterranean.