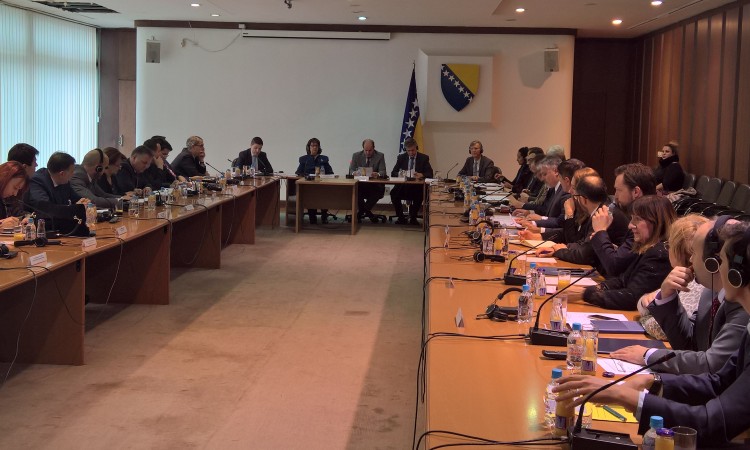 "The OSCE Mission to BiH, the U.S. Embassy, and the EU Delegation are united in concerns regarding the state of education throughout BiH. Education reform can and should be a priority at all levels of government. We encourage leaders and communities to make necessary changes to ensure quality education and guarantee the rights of all students", stated on Tuesday representatives of the international community in BiH.
For the first time, OSCE Head of Mission Bruce G. Berton, United States Ambassador Maureen Cormack, and the Head of European Union Delegation and EU Special Representative Ambassador Lars-Gunnar Wigemark jointly addressed the Conference of Education Ministers in BiH, on Tuesday in Sarajevo.
They stressed that, next year, the Programme for International Student Assessment (PISA) will come to BiH, and that they believe this assessment will show the challenges that BiH schools currently face. Trends in International Mathematics and Science Study (TIMSS) testing will follow in 2019, after the last TIMSS test in 2007 showed clear deficiencies in math and science education across BiH.
"A fragmented administration, segregated institutions, and ethnically-oriented curricula in the BiH school system impede reconciliation, perpetuate needless divisions across the country, and in some cases violate international human rights conventions. The weaknesses of the current school system, from out-of-date materials to teacher training, limit economic development and jeopardize the long-term stability and security of BiH. But this can all change", urged representatives of highest international institutions and embassies.
From OSCE it is emphasised that diversity is essential in today's global marketplace, and that it is a historic and central pillar of BiH society. Cultural, linguistic, and religious diversity in BiH is an incredible asset, and it should be nurtured.
"Discrimination has no place in 21st century BiH. Parents know this. Students know this. With a focus on merit-based professionalism in schools, BiH Ministers of Education can work together to deliver modern quality education for all students, greater stability, and economic prosperity.
The OSCE Mission to BiH, the U.S. Embassy and the EU Delegation seek to continue the long-term cooperation in support of improved education in BiH. Under the current Stabilisation and Association Agreement, the EU maintains ongoing dialogue with BiH, and the importance of EU standards in the field of education is clear", the press release reads.
It was stressed that further funding through the EU's Instrument for Pre-Accession, which has already provided more than 50 million euros toward BiH education in the past 20 years, as well as technical support from a range of sources are possible, but only if BiH advances a concrete reform. Such reform can only happen through partnership and coordination between the education leadership of all ten cantons, the Brčko District, the Federation of BiH, RS, as well as at the state level./IBNA