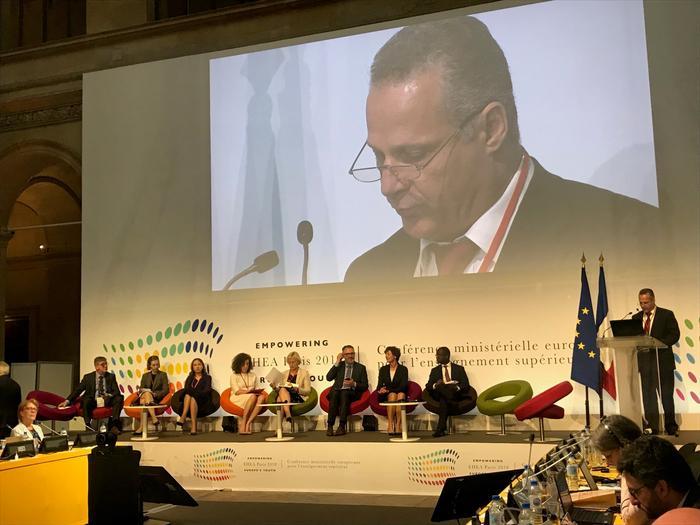 The Minister of Education and Culture, Kostas Chambiaouris, participated in the Ministerial Conference on the Unified Higher Education Area (UHEA) in Paris on 24 and 25 May 2018. The French Presidency placed priority to the expansion of higher education to the most vulnerable social groups, members of the university community, student-centered learning and better pedagogical training of teachers. The focus of the presidency was the expansion of UHEA with new countries and the closer cooperation between institutions in the form of "Joint Universities".
The conference was attended by more than 60 Ministers, 48 ​​from the UHEA member countries and the others from non-member countries, as well as representatives of many institutions and international organizations.
The ministers worked on strengthening cooperation and defining guidelines for the future of higher education beyond 2020.
In his speech, the Cypriot minister referred to, inter alia, the catalytic role that Tertiary Education plays in promoting the values ​​of freedom, democracy, dialogue, tolerance and respect for diversity. Chambiaouris further stressed that education is a necessary basis for the creation of a peaceful, just and sustainable society. Universities are able, he noted, to provide citizens with the necessary skills for the labor market, thus contributing to employability and thus to social cohesion and the fight against poverty. Through research, they can also contribute to managing modern social challenges.
The minister also referred to the measures taken at national level to increase the participation of young people in higher education.
Finally, he expressed his support for European initiatives to promote the European Student Identity and Networks of European Universities, which he considers crucial for promoting intercultural dialogue, democracy, freedom and European citizenship.
At the end of the conference, Ministers adopted the Paris Communique, renewing their commitment for the further development of the Single European Education Area. In the near future, the focus will be in the intensification of interdisciplinary and cross-border cooperation in the field of education, research and innovation, support for European University Networks, ensuring sustainable development, cooperation with other international organizations, as well as increased access to under-represented or disadvantaged groups to higher education./IBNA
Photo: pio.gov.cy