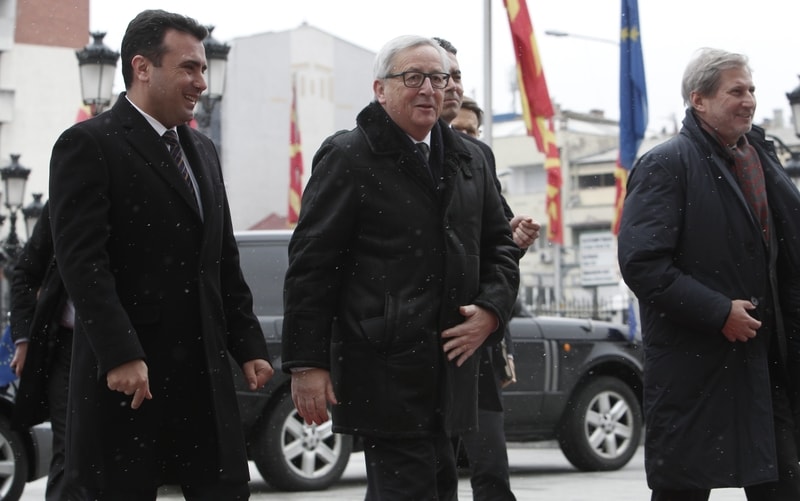 President of the European Commission, Jean-Claude Juncker has embarked on a tour of the six Western Balkan countries, with F.Y.R.of Macedonia being his first stop on Sunday.
Juncker is accompanied by Johannes Hahn, Commissioner for European Neighborhood Policy and Enlargement Negotiations. The visit is part of their tour of the region to present the EU Western Balkans Strategy.
It has been previously announced that EU's foreign policy chief Frederica Mogherini would join the EU top officials. However, she won't be coming to Skopje as there have been a mix-up in the agendas, MIA's correspondent reported from Brussels. Mogherini is expected to visit the region soon on her own, but any dates are due to be announced.
Juncker is scheduled to meet with Prime Minister Zoran Zaev followed by a plenary meeting of a government delegation with the EU's visiting delegation.
Juncker and Zaev are also set to hold a joint news conference.
Officials of the European Commission have stayed away from going into details about the messages that might be relayed to F.Y.R.O. Macedonia's leadership, particularly involving the name issue, for which pressure has started being exerted by Germany.
The EC's position over the name issue has remained the same – both sides need to find a mutually acceptable solution before a date is set for the launch of EU membership talks.
Juncker's spokesperson has briefly told reporters that the tour of Western Balkan countries reflected the renewed interest and dynamic the EC wanted to inject..
Juncker will travel to Albania in the evening, while on Monday (Feb. 26) he will travel to Serbia, followed by Montenegro on Tuesday (Feb. 27), Bosnia and Herzegovina, and Kosovo on Wednesday (Feb. 28), and lastly Bulgaria on 1 March, where he will attend an official lunch hosted by Prime Minister Borissov together with the six Western Balkans leaders.
After being left on the sidelines for some time, the Western Balkan region has once again become an important topic of discussion in Brussels. In early February, the EC presented its new strategy for the Western Balkans that aims to uphold the credibility of the European perspective of the region.
On May 17, Sofia will host a Western Balkans Summit.